It's crazy to think that ten years ago, back in 2012, the special purpose acquisition company or SPAC was a little used corporate structure, largely unused and certainly not a way of funding disruptive technologies. According to SPACAnalytics.com in 2011 there were just 16 SPACS which raised a meagre $1 billion between them.
Flash forward to mid-2021 and there have been a grand total of 416 SPACs by the middle of the year, raising a total of $121 billion in aggregate. And according to SPACAnalytics, there's still another 291 SPAC's in the pipeline looking to raise another $67 billion in funding.
SPACs now rival ordinary initial public offerings (IPOs) as a source for earlier stage business funding – SPACs accounted for 44% of all net proceeds for newly listed businesses in the US.
Why the SPACmaina?
Some SPACs have delivered stunning returns. Investors in online betting firm DraftKings have seen their initial investment increase six-fold in value while Simply Good Foods has delivered a 3 times return for investors. But many firms that have used SPACs such as AppHarvest have disappointed investors with its share prices pushing below the all-important $10 initial price level after underwhelming recent results.
Despite these disappointing numbers, its clear that SPACs are here to stay as an alternative way of raising capital for fast growing, earlier stage businesses – we might even imagine that the SPAC structure is the public markets answer to venture capital?
All of which leaves, begs an obvious question – which businesses in the Foodtech space space are likely to go down the SPAC route in the coming years ?
FutureFoodFinance has crunched the data on a wide range of privately owned businesses within the foodtech, Agtech and alternative proteins space and shortlisted the top 85 candidates based on our own internal analysis, and using Pitchbook data.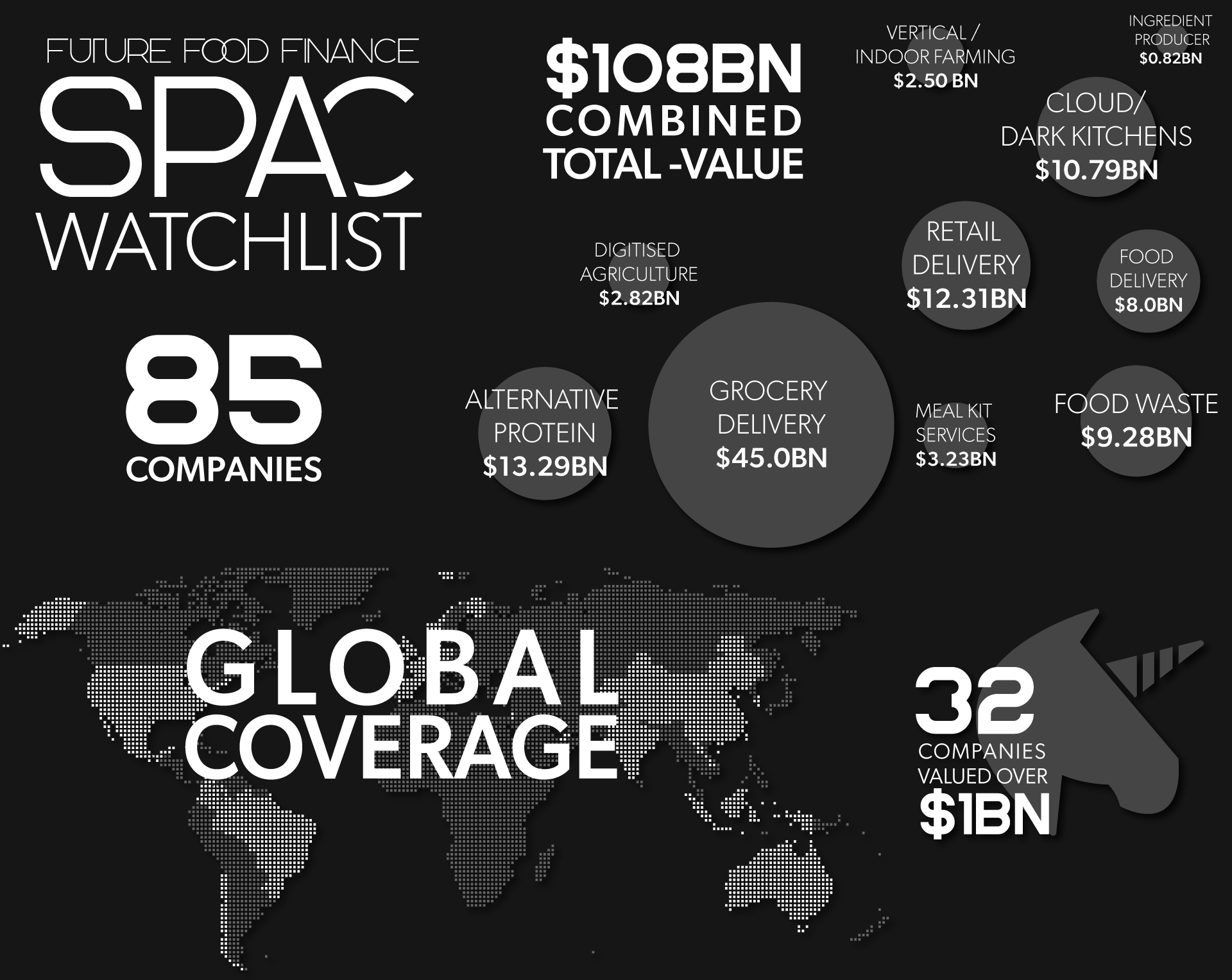 Here's our shortlist of likely SPAC candidates – with each business, we've added either own internal valuation for the business (based on common industry metrics and funding rounds) or used declared VC valuations. We've also put each business within in a Foodtech 'space' e.g food waste or grocery delivery and we've included their domicile and a link to their website.
General information: Company information sourced through PitchBook as of 15 July 2021. Companies that have either recently raised debt, been acquired or entered into an IPO process have not been included.
Footnote 1: For companies whose last known valuation predates 2019, an additional premium was calculated based on the performance of the Nasdaq-100 since the company's latest known valuation year. This premium was added to the last known valuation to estimate the companies' valuation in 2021 (source for last known valuation: PitchBook). If the calculated valuation was lower than the last financing round, the method is Footnote 2 was used instead.
Footnote 2: For companies with unknown valuation, an indicative valuation was calculated as follows: first, the raise was assumed to have accounted for 30% of the company's post-money valuation. Thereafter, an additional premium was calculated based on the performance of the Nasdaq-100 since the company's latest funding date (as at July 15, 2021) (source for latest funding data: PitchBook).