Commentary
Grocery Delivery
Alternative protein
Plant-Based FoodTech
Vertical / Indoor Farming
Future Food Finance's SPAC Watch List reveals that nearly half of the companies on our list, 37, are delivery companies of some sort, ahead of alternative protein firms, with the next biggest presence with 18 companies on our list.
Nearly half of the companies, 37, that make up Future Food Finance's SPAC Watch List, are delivery service companies, be it grocery, food or retail- indicating the rude health of the delivery sector.
But the hegemony of delivery firms has not squeezed out other FoodTech sectors in our list.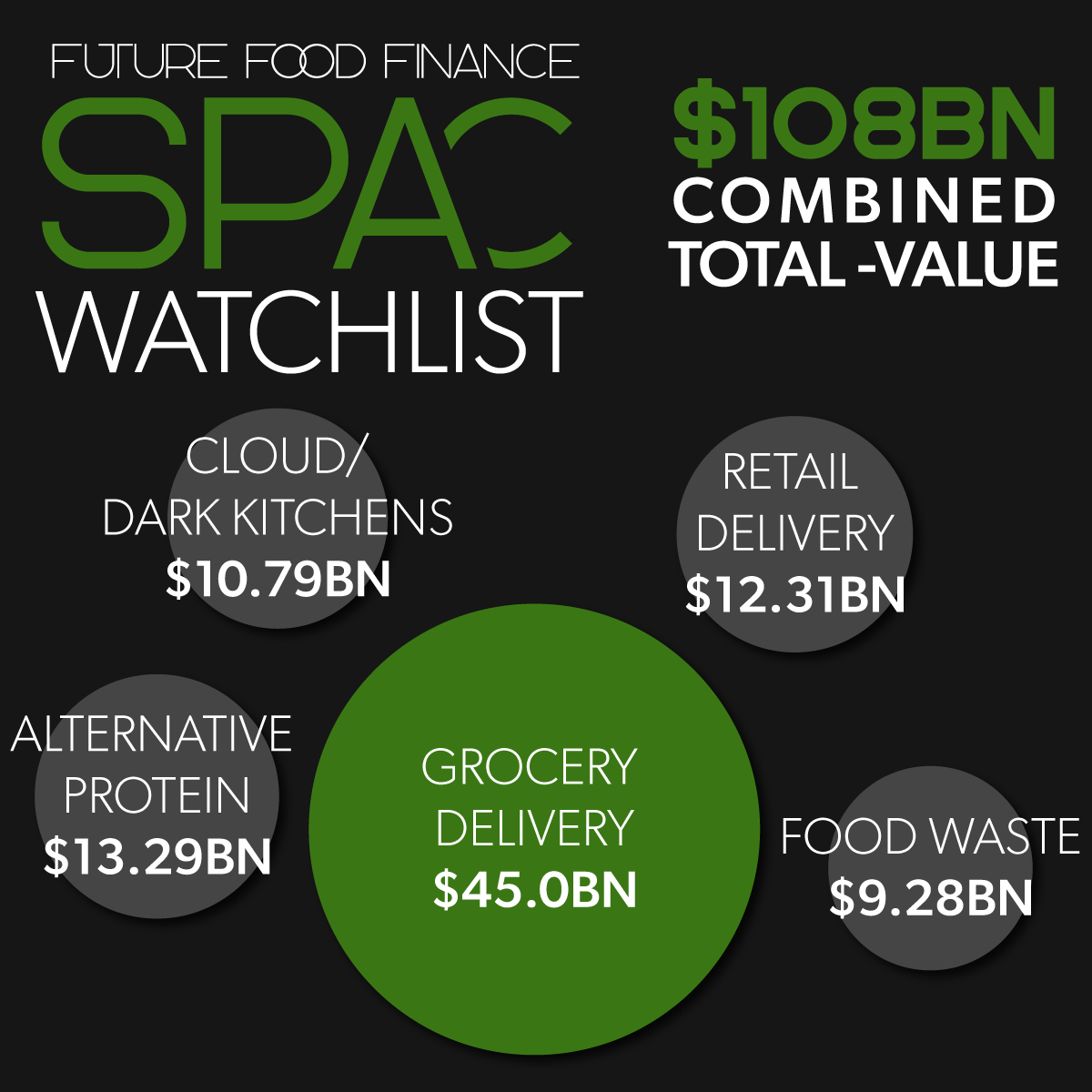 Our list reveals that behind delivery companies, there are 18 alternative protein firms, ahead of seven cloud/dark kitchen companies and seven meal kit services companies. Other sectors like vertical/indoor farming firms and ingredient firms also have a presence.
The booming world of instant grocery deliveries is the hottest transatlantic food trend at the moment- and our list indicates this with 18 making the list.
The fervor around the zippy grocery delivery service was highlighted by a recent FT report revealing some of the investment toing and froing in some of Europe's hottest firms.
The upshot has been that Delivery Hero has invested in Berlin startup Gorillas while Gorillas rival Flink has snared funding from DoorDash.
In our SPAC Watch List, we reveal the towering levels of funding that has gone into the delivery sector in 2021 alone.
This year, for example US giant GoPuff has snatched $3.4bn in funding while Gorillas has landed $1.3bn.
Behind these two, there have been other significant investments this year.
Weee!, the ethnic grocery delivery platform has raised $871m this year; Xingsehg Selected, the Chinese giant, $300m and South Korea's Market Kurly has raised $200m in 2021.
There seems little doubt that amid frenzied competition, and new players like France-baed Cajoo and UK-based Jiffy, coming into the market, more investment will be funneled into the speedy grocery delivery market.
Experts also believe that there will be consolidation in the market soon and some startups will fall by the wayside.