Commentary
The Future Food Finance FoodTech Index recorded a one per cent loss over the four weeks in March but some stocks, particularly AppHarvest, DoorDash and Dada Nexus, recorded some big gains.
FFF FoodTech Index March report
The selloff in global foodtech-related stocks slowed down in March although the Future Food Finance FoodTech Index still recorded a one per cent loss over the four weeks of March. The good news is that some stocks in the index have recorded some extraordinary gains, notably AppHarvest and to a lesser extent DoorDash and Dada Nexus. On the debit side, Oatly's share price continued to decline, falling 25 per cent in March.
March returns
March 1st 2022 index level: 3981
April 1st 2022 Index level: 3950
Return : -1%
1st Quarter returns Jan 1st to April 1st
Jan 1st 2022 index level: 5521
April 1st 2022 Index level: 3950
Return: -28%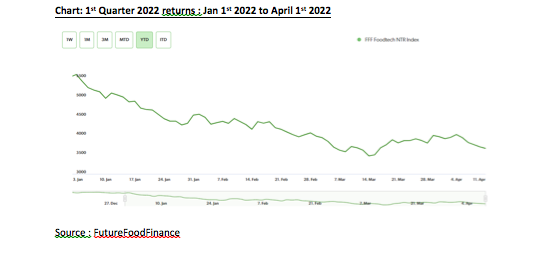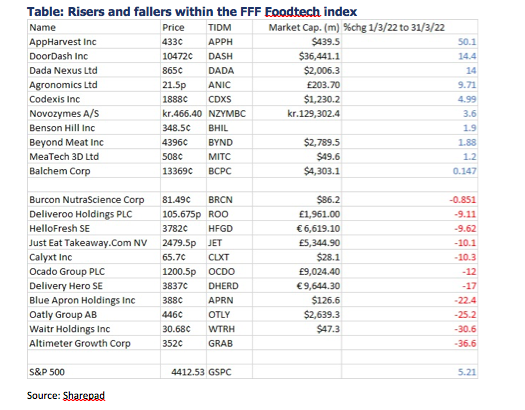 The FFF FoodTech Index was down one per cent in March which compares unfavourably to a five per cent rise in the S&P 500. That said, this small decrease was vastly lower than in previous months and may suggest that the recent sell off in foodtech stocks might be slowing. And unlike previous months where pretty much every stock in the index registered a price fall, ten stocks in the index saw their share prices increase.
The biggest gains were in sustainable closed loop indoor farmer AppHarvest which shot up by 50 per cent in value in March. Well received numbers from February certainly helped. The fourth quarter and full year 2021 numbers saw the business exceed its previous guidance as it pushed ahead with plans to quadruple its indoor farm network and double net sales in 2022.
The company also announced that it was experiencing a sharp uptick in its tomato quality coupled with a sharp bounce in overall tomato prices. According to some estimates, the stock is now trading at roughly 1.5 times FY2025 estimates though to hit that target it will have to rapidly expand its capex spending on new farms.
The share price of DoorDash also ticked up in March (up 14 per cent) possibly indicating that the bear market in delivery stocks might be showing early signs of abating. The business is still experiencing solid sales growth post pandemic - DoorDash grew revenue by about 34 per cent in Q4 2021 and the company reckons that its marketplace gross order value will grow by as much as 20 per cent to between $48 billion and $50 billion in 2022.
Sentiment was also helped by news that it is offering a 10 per cent cashback programme for fuel purchases by its drivers to help them offset higher fuel costs. This new initiative might help retain existing drivers and recruit new ones.
That said, the stock does still trade at roughly 6 times 2022 revenues although that' measure is down from pandemic levels. Last but by no means least the company's DashPass program – which is a $10 per month subscription – has helped significantly boost its user base to 10 million.
UK listed investment fund Agronomics saw its share price rise by just under 10 per cent in March. The fund continues to roll out its investment programme in a strategy focused on alternative proteins. In March the big news was an investment in a project involving Scottish firm Roslin Technologies Limited, a food biotechnology company – the two businesses are working together to launch their first joint venture, Good Dog Food Limited which will develop a novel range of healthy, eco-friendly pet food products made using cultivated meat.
Turning to those stocks still experiencing significant share price declines, Oatly had another bad month with its shares down 25 per cent in March. The Swedish alternative milks business has been on the receiving end of a heap of bad publicity in recent months and sentiment wasn't helped by recent results (for the fourth quarter). Although sales rose 46 per cent year over year, hitting $186 million, net losses expanded from $0.08 to $0.13 per diluted share, much worse than some analysts had been expecting.
The company's management also pointed to the impact of inflation on input costs as well as supply chain challenges. To make matters worse the management lowered forward guidance by 10 per cent while capex is expected to double in the coming year as the business expands its US footprint. And if all that wasn't bad enough Oatly had to announce a small product recall in two European countries where the company has received 29 complaints and two people reported stomach illness.
UK online grocer Ocado also saw its share price decline, by 12 per cent in October. This largely followed underwhelming numbers released for first quarter sales - showing slower growth – along with warnings that inflation might result in the business increasing prices.
The online grocer also revealed that the average basket size has declined by 15 per cent compared to last year as consumers shift away from eating at home. It wasn't all bad news though as the business announced that its joint venture with Marks and Spencer was progressing well, with full year revenue growth likely to be around 10% - though that was lower than many analysts had expected.