Commentary
Future Food Finance cherry-picks the stories we think should be on the radar of investors.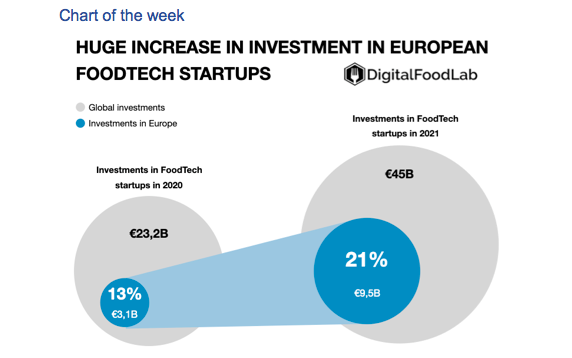 Investments in FoodTech increased significantly in 2021 (x2 compared to 2020 according to AgFunders's data). However, in the meantime, investments in Europe grew even more, and hence the share of the ecosystem is now above 20 per cent, a level it never reached (it was always between 8 and 15 per cent).
https://www.digitalfoodlab.com/foodtech-europe-2022/
Essential data drop from GFI 2021 State of Industry report – boom in new investments
Investment in cultivated meat companies topped $1.36 billion in 2021, more than doubling the previous cumulative investment in the industry. 2021 also saw more than a hundred new investors enter the space.
Download report at : https://gfi.org/wp-content/uploads/2022/04/Executive-summary_2021-State-of-the-Industry-Report-all.pdf
Data drop: Upstream FoodTech saw more deals in 2021 but less funding
Downstream agrifoodtech investments surpassed upstream investments in 2021, increasing 124 per cent YOY to $32 billion compared to upstream's $19 billion, according to AgFunder's latest annual Agrifoodtech Investment Report. That is a switch from 2020, when upstream surpassed downstream for the first time in years, raising $15.8 billion compared to $14.3 billion, respectively.
https://agfundernews.com/data-snapshot-downstream-investment-grew-124-in-2021-but-upstream-saw-more-deals?goal=0_8e101ace96-2e0cb89324-99735377
Worth reading: why FoodTech investments not helping with climate priorities
The biggest miss: 35.8 percent of last year's funding went to eGrocery. That's an $18.5 billion investment distributed across 343 deals in online stores and marketplaces that sell and deliver food directly to consumers. Chinese company Furong Xingsheng led this category, and overall investments in 2021, with a $3 billion round. The grocer is at the helm of a growing trend in China, where consumers band together in groups to purchase fresh produce and other items in bulk, securing better deals. This new model could tie into some mitigation opportunities. More direct bulk purchases from wholesalers and farmers could reduce waste and cheaper produce could lead to more vegetable consumption. But the marketplace doesn't actively incentivise these outcomes and doesn't seem to have a big sustainability focus in general.
https://www.greenbiz.com/article/food-and-agtech-investments-dont-stack-climate-needs?mkt_tok=MjExLU5KWS0xNjUAAAGDxrSzpIWLn9cvaGNSlN9xht_3byl2Z9PEXCyY8Y2qzBaOTh5iDJhlpHbjiyJ1Rd19GNPdgAg9gtJEMaClrMzreZ7UueYb-ZTkh0Pwfy6mExlU8Vo&goal=0_8e101ace96-2e0cb89324-99735377
Essential reading: VentureCapitalist graphic guide to future food
Easy to read primer on the FoodTech space
After Singapore, Qatar will become the second nation to sell cultured meat products. Qatar has indicated that it will grant regulatory approval to GOOD Meat – a subsidiary of Eat Just, best known for its JUST Egg product
https://www.visualcapitalist.com/cultured-meat-101-the-next-generation-of-food/
SynBio coming out of the shadows across industry sectors
We think Synbio is a sub sector worth watching closely for new food technologies
By the end of the decade, syn-bio could be used extensively in manufacturing industries that account for more than a third of global output—a shade under $30 trillion in terms of value—according to a new BHI study. To be sure, because of real-time data collection, automation, and AI, some industries are closer to feeling the impact than others.
https://www.bcg.com/publications/2022/synthetic-biology-is-about-to-disrupt-your-industry?utm_medium=Email&utm_source=esp&utm_campaign=none&utm_description=top10&utm_topic=none&utm_geo=global&utm_content=202204&utm_usertoken=982207bbea9b0d526fd249315b5b617bd890177a
SynBio firm Gingko moving into microbiome-based products with Elanco
The new company, called BiomEdit, will discover, produce and innovate on novel probiotics, bioactive molecules, engineered microbial medicines and microbial monitoring services for farmers, veterinarians, and others working animal health areas.
https://agfundernews.com/ginkgo-bioworks-launches-livestock-health-company?goal=0_8e101ace96-2e0cb89324-99735377
Vertical farms sector booming says New York Times
Reinforces why there's a buzz around vertical farming despite SPAC challenges
But the industry faces challenges, including high costs for energy, technological limitations and the ability to scale production to keep expenses down. Agriculture in a controlled environment has been around since the 1970s, said Gene A Giacomelli, a professor of biosystems engineering at the University of Arizona. What made moving indoors possible was a drop in price in LED lights, which plunged as much as 94 per cent in 2015 from 2008.
https://www.nytimes.com/2022/04/06/business/vertical-farms-food.html?mc_cid=6c66f2f596&mc_eid=ebbdb50f24&goal=0_8e101ace96-2e0cb89324-99735377
New ideas: Beyond fertilisers with corn that can generate nitrogen
The race to develop biological and natural alternatives to traditional fertilisers is speeding up
Announced in 2018, researchers from University of California, Davis, the University of Wisconsin and Mars Inc., continue to study a tropical variety of corn from Mexico that can fix atmospheric nitrogen using a mucus-like gel and bacteria from what looks like brace roots along the stalk.
https://www.agweb.com/news/crops/crop-production/future-without-fertilizer?mkt_tok=ODQzLVlHQi03OTMAAAGDyMJbqk-5t7Hbxpb1uT5ck5FzzXoPNPPKOUcnFhTTFKhU3vRsmhCskGBpnmIUR-gSiezd5ocdUux3wP-ZqA-BgviO3pj6f-KjOptQlctB8S6OLeKCsQ
New products
Lab-grown caviar - Ken Benning, founder of Caviar Biotec, has worked with a biochemical engineering professor from University College London to grow sturgeon eggs cells in a lab in 40 days from biochemical soup.
https://www.thetimes.co.uk/article/lab-grown-caviar-to-bring-luxury-to-the-masses-r9296hxrc?shareToken=d18877b0e31a15443c784d01c7927a17
Bee-free honey from MeliBio - Using microbial fermentation technology, the company is able to produce honey that has the same molecular makeup, taste, texture and viscosity as conventional honey – all without using any bees in the process. In a recent industry blind taste test, MeliBio's honey was found to be indistinguishable from traditional honey, prompting over 30 companies around the world to sign up to be the first users of the product.
https://plantbasednews.org/lifestyle/food/bee-free-honey/
Israeli firm Aleph Farms says it will have collagen in production for commercial launch in 2024 – cell-cultured collagen is on its way to replace traditional collagen which is made from boiling and processing cow hides and bones
https://www.foodnavigator-usa.com/Article/2022/04/08/israeli-start-up-is-set-to-launch-lab-grown-collagen-in-2024?mc_cid=6c66f2f596&mc_eid=c50da91d11
World first lab grown lion meat - Cultivated' lion burgers, tiger steaks and zebra sushi rolls are among the products being pitched by a FoodTech startup
https://www.independent.co.uk/climate-change/lion-meat-lab-grown-world-first-b2047237.html?mc_cid=6c66f2f596&mc_eid=c50da91d11
Novel sensor optimises peak ripe fruit produce - Strella Biotech, a 3-year-old startup led by science prodigy Katherine Sizov, already works with half the nation's pear- and apple-packing houses, monitoring storerooms to recommend which fruits should be sent to market based on their maturity. The company's iPhone-size sensors monitor ethylene, a gas that fruits and vegetables produce.
https://www.axios.com/newsletters/axios-whats-next-17622569-9e61-43e6-b30d-49af54fae4a9.html?chunk=0&utm_term=emshare#story0
Deals
French plant-based chicken business Umiami raises$30m Series A - Umiami has taken two years to develop its realistic plant-based chicken breast using proprietary techniques. The end result is, the company claims, a comparable whole-cut dish that offers meat-eaters a non-sacrificial alternative that could fool them. The company took aim at what it deemed to be the biggest failing of plant-based meats: bad flavour.
https://www.greenqueen.com.hk/umiami-raises-30-million-for-plant-based-chicken/?ct=t%28OCT+8+2020+INDUSTRY+SCOOP_COPY_01%29
Kiwi Leaft Foods raises $15m in Series A for leaf-based alternatives - Leaft was founded on the principle of more being more. Every plant utilises "RuBisCo", a protein essential for the photosynthesis process. By default, this makes it the most plentiful protein source on earth, according to the founding wife and husband team, Dr John Penno and Maury Leyland Penno. Armed with this knowledge, the two set about researching whether the protein could be extracted, safely eaten and marketable.
https://www.greenqueen.com.hk/leaft-protein-scoops-15-million/?ct=t%28OCT+8+2020+INDUSTRY+SCOOP_COPY_01%29
Catalan alt meat Heura launches Crowdcube campaign - The 'Equity for Good Rebels' investment opportunity is open for pre-registration now, with official launch slated for April 14th. Interested investors can play an active role in shaping the food system of tomorrow by pledging as little as €20. Heura has stated that it will use the fresh capital for multiple improvements with a new facility cited as a top priority alongside wider international distribution and significant expansion of the professional team .
https://www.greenqueen.com.hk/heura-crowdfunding-opens-for-fresh-investment/?ct=t%28OCT+8+2020+INDUSTRY+SCOOP_COPY_01%29
Synbio firm raises $5m in seed round to replace fermentation technology - In biomanufacturing industries such as alternative protein, precision fermentation utilises microbes to act as cell factories to create new and novel products. The microbes are computationally programmed to express these products, but according to Enzymit these expressions often also result in toxins or are not highly productive due to their complexity. Enzymit's solution involves designing what it calls 'new-to-nature enzymes' and using them in what the company describes as a 'cell-free' system. According to Enzymit, this avoids the difficulties related to cell-based manufacturing through fermentation.
https://thespoon.tech/enzymit-raises-5m-for-bio-manufacturing-platform-it-claims-can-replace-traditional-fermentation/?mc_cid=6c66f2f596&mc_eid=c50da91d11