Commentary
Plant-Based FoodTech
Vertical / Indoor Farming
Ingredient Producer
Synthetic Biology
Over the last year or so analysts at US investment bank Morgan Stanley have been producing a series of reports on sustainability and the food system that read like a compelling manual for anyone interested in grappling with the challenges of investing in the nascent food tech industry. Jessica Alsford leads the global team of researchers and like many experts in sustainability, she is realistic about the challenges inherent in changing a huge global food industry. 
Her core concern is summed up in the contrast between the car industry and food. In the car industry, there are just a handful of leading car manufacturers who need to be convinced of change.
The rise of just a handful of disruptors such as Tesla can accelerate change as can a limited number of carefully directed government policies. In food, by contrast, there are at least 570 million farmers worldwide to convince plus thousands and thousands of firms, large and small.
Even if a giant such as Nestle for instance was convinced of a need for radical change, it's not certain they could really achieve that much. " It's a huge issue – something like three quarters of global emissions come from power, transport and industry and in those sectors, there are some very clear options and solutions," says Alsford.
"Consumers by contrast in the food sector are notoriously difficult to change in their attitudes towards foods. That means you can have a great investment idea in this space but it doesn't mean you are going to solve the problem".
And that problem is obvious to any observer – over the next 30 to 50 years the world is going to need to produce 50% more food, eliminate malnutrition for 2.5 billion people, and cut ~13Gt of greenhouse gas emissions by 2050.
The Morgan Stanley analysis suggests that climate change could threaten at least 36% of the four largest crop groups (rice, maize, wheat, and soybean). As Alsford observes, compared to high profile debates around say electric cars food is "a forgotten area where no one quite knows what to do about the challenges".
The good news – is we will see below by looking at the various reports – is that consumers willing to change their habits, with increasing interest in plant-based alternatives and growing suspicion of red meat in particular. But even if one accepts that change is coming, unlike in the electric car example, change is unlikely to binary and dramatic. With cars, the choice is stark and absolute, and binary – buy a hydrocarbon-fuelled vehicle or go electric.
With food, there are many more shades of opinion and practice, and flexitarians can carry on eating meat for many years even if they eat less red meat. And Alresford makes another crucial point – investors should not fixate on just the alternative proteins vs red meat debate.
The bank's reports are very clear that there's a wider set of opportunities available including products such as synthetic fertilizers using green ammonia or carbon sequestration involving farmland. Alsford argues that "we have to have all of these developments, to be honest – alternative proteins are part of the solution, but they alone are not going to solve the problems".
Before diving into the practical investment ideas in the various Morgan Stanley reports, its worth taking first looking at what consumers actually think about all these changes.
The Morgan Stanley team have over the last few years built up a consumer panel (called AlphaWise) which is regularly consulted on key consumer market changes. The fundamentals seem very positive for structural change in the foods bought by most consumers – Morgan Stanley reports that "six per cent of consumers across US, UK and China believe that they could eat/drink more healthily. Cost was the main reason given for not eating more healthily (42 per cent), followed by it being hard to change current habits (32 per cent)."
But price clearly remains a core challenge: In the UK, 43 per cent of consumers would not pay more for healthy food, compared to 29 per cent in the US and 7 per cent in China.
"Looking at the top five factors when buying food in a shop in the US and the UK, the similarities are clear. Consumers in both countries prioritise value for money (US: 54 per cent, UK: 62 per cent) over freshness and quality. Chinese consumers rate freshness as the principal driver (47 per cent), and value for money at 28 per cent ranks below natural, organic or less processed (36 per cent), quality (34 per cent) and selection of healthy options (30 per cent)."
Focus on sectors
The Future of Food reports feature a number of top line conclusions that are worth exploring in detail for investors. In particular the report identifies a number of sectors worth focusing on for investors.
Precision agriculture –" We anticipate growth in the low teens over the next decade, resulting in a market worth ~ $17 billion in revenues. Deere and Co. The company has commercialised several differentiated products – including Exact Emerge, Exact Apply, and Combine Advisor. Its Exact Emerge product enables farmers to plant their crop in tighter windows by planting speeds twice as fast while also providing more uniform seed spacing."

Innovation in seeds. "This is a scalable solution that can be used globally; we forecast 5-7% growth per annum to 2030, reaching market revenues of ~$100 billion".

Agri Food Testing. "We expect 5-7 per cent growth over 2020-30 to a market size of $52 billion."

Aquaculture." We forecast a ~5 per cent CAGR over the next decade to reach revenues of over $300 billion".

Vertical Farming. This relatively new product set of technologies is "pesticide free and uses less water than traditional farming (95 per cent less for aeroponics and 70 per cent less for hydroponics). Up to 99 per cent less space is needed compared to conventional agriculture methods, with productivity up to 300x higher than a field farmer. However, it is only suitable for high value crops such as leafy greens and strawberries and thus its scale will be limited. We expect a CAGR of ~25 per cent over 2020-30 to a market of ~$20 billion."

Alternative Meat. "We estimate that, together, plant-based meat and milk could be worth more than $80 billion by 2030" – see a more detail analysis below.

Fertilisers. "Two new areas to watch, though, are: 1) green ammonia: Yara, OCI and CF Industries have begun to invest here through pilot projects; and 2) biofertilisers: Compass Minerals, Yara, Nutrien, ICL and Syngenta are all working on this technology on a small scale

Crop protection. Biological crop protection is an area to watch; the likes of Koppert, FMC, Bayer, Novozymes and BASF all operate within the space.

Animal Health. One business worth watching in this space is Evonik Industries –"a leader in the production of amino acids for animal nutrition, generating ~€1.5 billion in sales from this business unit per annum, equating to ~12% of group sales. More recently, the company has embarked on the production of omega-3 fatty acids derived from natural marine algae for animal nutrition purposes (including salmon) through a 50:50 joint venture with DSM, Veramaris. Also Bluestar Adisseo (600299.SS Lu)is the second-largest methionine producer globally".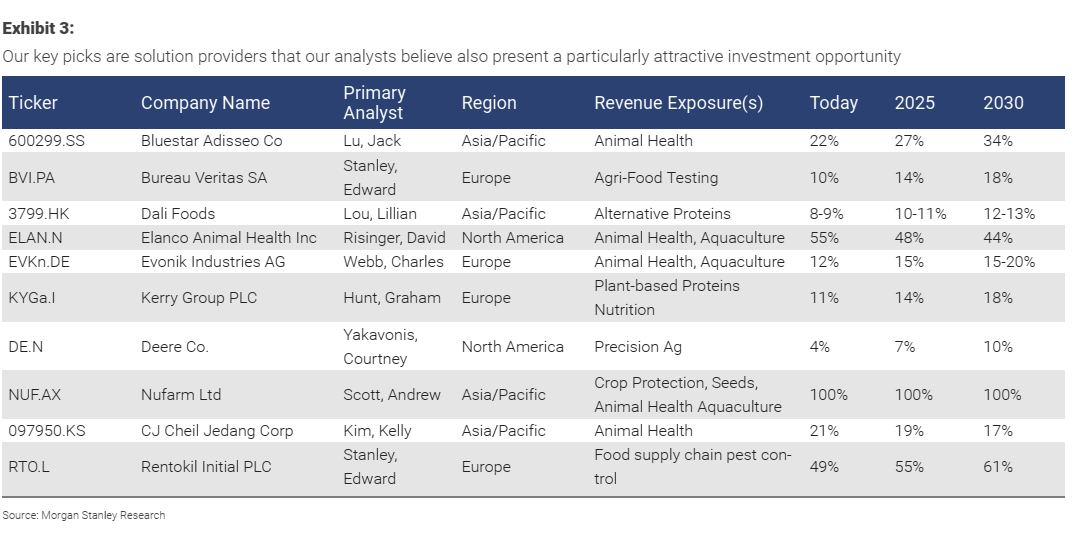 What about meat alternatives?
Although the Morgan Stanley analysts seem fairly optimistic about growth in the alternative proteins sector overall, they're notably more cautious about prospects for cultured meat – "Mass production is not expected until 2040/2050.
Although major progress has been made in terms of both scientific and technological progress and improvements in pricing, there remain some key barriers of entry before mass production can be achieved. From our conversations with companies in the field, this is not expected to be achieved before 2040 at the earliest, potentially even 2050 "
The environmental impact of cultured meats could be hugely positive though, if and when they come to market – the bank's analysts reckon that cultured meat production is estimated to use up to 99 per cent less land, 96 per cent less water and 96 per cent lower GHG emissions than traditional meat rearing, according to Mosa Meats.
But the research also observes that cultured meats are more energy intensive. " In fact a study published in 2015 in the Environmental Science & Technology by Mattick et al suggests that in vitro meat is 1.4x more energy intensive than traditionally reared beef, 4x more than poultry and 7x more than pork. A significant amount of energy is required to maintain a controlled environment during the bioreactor manufacturing process."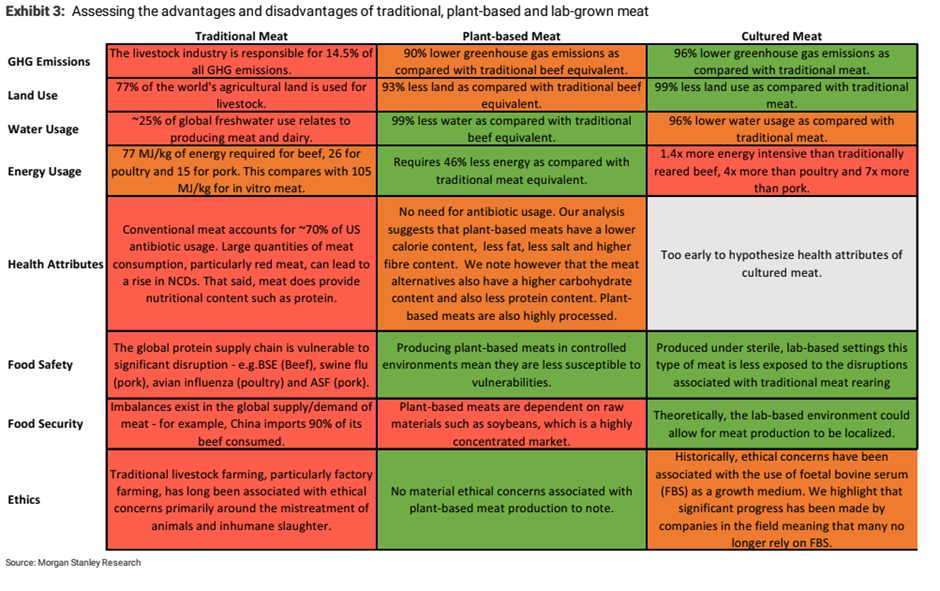 Yet a more basic challenge remains paramount – regardless of the energy footprint or speed of technological change, pricing remains crucial.
The Morgan Stanley analysts report that "the cost of both cultured meats and plant-based meats should fall to similar levels to traditional meat.
The cost of cultured meats will fall as scale increases and external supply chains are established. Indeed, every company that we spoke with was very clear that cost parity is certainly achievable, but as with all new technologies, this will take time and scale. Mr Toubia, for example, is hopeful that Aleph Farms will achieve cost parity with its cultured steak product five years from its full launch.
Likewise, Beyond Meat, a plant based meat company, has repeatedly stated that it is aiming for price parity . Likewise, Impossible Foods announced recently that it would cut the price of its patties by 20 per cent in US grocery stores as the company continues to increase production with the ultimate aim of undercutting the price of traditional ground beef. Long term, we therefore see both products as having the potential to be equally cost competitive".
Cultured meat clearly represents a major opportunity but as of yet, its not a major stockmarket niche – there are no listed players in this space yet, as opposed to plant-based alternatives. The Morgan Stanley reports highlights one interesting, still private business, worth following: SingCell based in Singapore, which "is the first contract development and manufacturing organisation (CDMO) dedicated to clean meat.
As such, it offers a scalable commercial manufacturing platform to help clean meat companies address Asian markets. In addition, we highlight that Sartorius (not covered) has expertise in the cultivation and purification technology required for microorganisms and mammalian cell cultures. Merck KGaA also supplies similar filtration equipment to Sartorius."