Commentary
Food Delivery
Grocery Delivery
"Alternative Grocery" - Part One.
The world of grocery as we've known it is changing.
Over the past several months venture capital has ramped up its investment in a hot new Covid-fueled sector, "Alternative Grocery".
Turkey-based "ultrafast" delivery service company, Getir, has raised just under $1bn in 2021 alone with the most recent $550m Series D at a valuation of $7.5bn.
Berlin-based delivery company, Gorillas, raised $295m in March 2021 and is reported to be seeking a $1bn raise at a $4bn valuation.
India's Swiggy has raised $800 million at a $5 billion valuation, Spain's Glovo has raised $528 million and Norway's Kolonial rebranded as "Oda" raised $265 million at a $900 million valuation.
With all this recent activity as evidence, global investors are clearly anticipating the disruption of the traditional grocery business via online ordering and delivery.
The business model of traditional grocery has already been under severe stress, particularly since the COVID-19 pandemic began.
Intense competition, low margins, food wastage, operational inefficiencies, high real estate costs, and of course the impact of the pandemic have caused traditional grocers to struggle.
At the same time, digital adoption is skyrocketing and has suggested a permanent change in consumer behaviour.
The number of people who purchase groceries online has more than tripled over the last five years from 15 per cent in 2015 to 55 per cent in 2020.
So, digital natives and digital incumbent companies are delivering superior shareholder returns today on the back of an asset light digital model.
Alternative Grocery certainly has attractive market potential in the near term as the adoption to digital continues.
In 2020 the market was about $240 billion and by 2027 it is projected to exceed $1 trillion.
The asset light digital model for Alternative Grocery, including generating data analytics from online ordering, removes so many uncertainties and inefficiencies while delivering higher margins.
Today, the use of store warehouse automation, cashierless checkout and robotics is just beginning its exponential curve up.
In the near future, market participants will be leveraging vertical farms, augmented reality and virtual reality shopping, and even drones.
As a result of these changes, the online grocery sector has attracted over $14 billion of venture capital funding in the last four years.
The new model of "Phygital", which is a combination of physical and digital presence, has become widely accepted, and more companies are now going from Phygital to fully digital.
As a result, there's a huge opportunity ahead for incumbents and start-ups alike to partner and consolidate activities.
Incumbents, in fact, have already taken strategic initiatives to expand into Alternative Grocery through acquisitions and partnerships.
The margins for traditional grocers are only about two to three per cent.
In terms of food wastage, over 40 per cent of food losses in industrialised nations occur at the retail and consumer levels.
The cost of real estate cost is high; in the UK, Tesco, Asda, Sainsbury's, and Morrisons own over 46 million square foot of space in the UK for building new stores - enough land to build thousands of homes.
This real estate could be a challenge, since due to the pandemic online grocery shopping has gone mainstream.
In 2015 only 15 per cent of people had experienced online grocery delivery. Today this number has risen to over 55 per cent.
Asda announced it has increased its online capacity in the UK by 90 per cent since March 2020 to over 850,000 deliveries a week and plans to reach a million a week in 2021.
This digital adoption is expected to be permanent - the percentage of people who expect to buy groceries online in the next 12 months has risen to 62.5 per cent.
Consumers are unlikely to turn back from the ease, convenience, and feeling of safety that these delivery options have provided, and this digital adoption is likely to relieve some of the margin pressure that is experienced by traditional grocers.
This shift to digital is not new. We saw traditional print media starting to shift to digital media over a decade ago. The New York Times, for example, in 2015, generated 54.7 per cent of its total paid subscribers from digital subscriptions.
Only five years later, that number had risen to 89.2 per cent.
Digital adoption basically killed print news media within a decade.
We believe similar consumer adoption towards Alternative Grocery will cause tectonic shifts in the traditional grocery market.
The grocers who have understood this model and shifted their activities towards becoming a digital incumbent or even a digital native have been rewarded by the stock market.
A group of traditional grocers that includes the following - Kroger, Sainsbury's, Tesco, ICA Gruppen, Ahold Delhaize, Albertsons, Carrefour and X5 Retail Group – delivered only an 11 per cent shareholder return from January 2018 to March 2021.
Meanwhile, digital incumbents, represented by Costco, Target, Walmart, and AEON, delivered 107 per cent shareholder return during the same time period. Digital native Ocado delivered a return of 547 per cent. (Figure 1)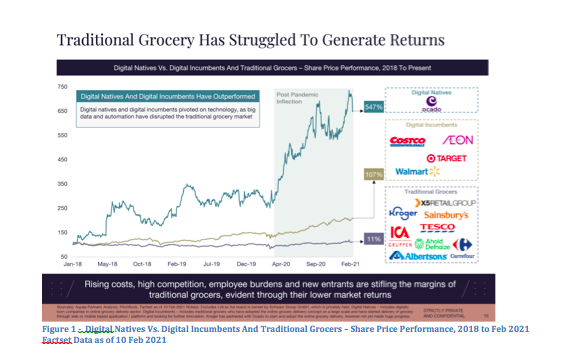 Figure 1 - Digital Natives Vs. Digital Incumbents And Traditional Grocers – Share Price Performance, 2018 to Feb 2021 Factset Data as of 10 Feb 2021
Technology automation is driving and will continue to drive the attractiveness of Alternative Grocery.
The main challenge traditional grocery has is its asset heavy business model, where goods are taken from warehouse to warehouse to distribution centre to a traditional store, where the customer ultimately has to get into their car or onto a bus and physically do their shopping.
In the Alternative Grocery model, which is an asset light digital model, the consumer can order online or through a mobile app, which delivers high quality data that the grocer can use, allowing tech-based demand management using artificial intelligence.
This data allows for in-house robotics to be used in automated warehouses, which are used by aggregators, dark stores, and even standalone online grocers. Ultimately, we'll see virtual reality shopping become part of this.
Today, the delivery from the warehouse to the customer, which currently replaces the customer going to the store, is done manually, typically by a human driving a van.
But we expect within four to five years, most of that will be automated, either by an autonomous van or car, or by drone or "flying taxi".
This new world of Alternative Grocery covers a wide spectrum of digitisation.
It runs from digital natives and early stage aggregators like Postmates, Mercato, and Peapod, to dark stores, such as Getir, goPuff and Gorillas, to digital incumbents and captive e-grocers like Amazon Go and Walmart, digital natives and advanced stage aggregators like Deliveroo, Doordash and Instacart, and to advanced-stage, standalone online grocers like Ocado and Fresh Direct (acquired by Ahold Delhaize in 2021).
The question is, where is all this going?
Where will we be in 2027? We'll have a fully automated model that incorporates integrated vertical farms, virtual reality shopping, and delivery via drones without intermediaries, as well as fully integrated kitchen robotics and 100 per cent digital D2C models.
The tech driven model described above is operationally so much more efficient as a business model.
As noted earlier, traditional grocery delivers margins of two to three per cent, but with Alternative Grocery those margins can exceed six per cent, due to less wastage, increased shelf life, faster deliveries, better demand management, and less capital spending.
Wastage can be reduced by 10-15 per cent, if not more.
Shelf life can be increased by at least seven days, deliveries can be done in 30 minutes or less, and 14 deliveries per hour on average can be completed.
In terms of better demand management, with such efficiencies one can expect a 25 per cent reduction in stock shortages, a 10 per cent decrease in write offs and better inventory management with an approximate 30 per cent reduction in cost of inventory planning due to higher automation.
The capital spending is less intensive because the higher automation results in lower manpower cost, a lower real estate requirement and greater precision and speed.
A digital B2C model for Alternative Grocery removes a significant level of inefficiencies while delivering higher margins compared to a traditional model.
The next battleground for groceries will be a 10-1-0 model. 10 minutes to deliver, one second to pay and zero human touch. Grocers who are able to deliver fast by deploying robotics, in-store automation, and leverage the customer data effectively will be among the winners in the race to capture market share.