Commentary
Future Food Finance takes an in-depth look at the market coverage of Beyond Meat, Oatly as well as others set to benefit from the move towards the alternative protein industry.
Slowly but surely the FoodTech and alt protein space is becoming mainstream, as more businesses IPO or use a SPAC. That's also meant that broker coverage of the space has improved markedly. Over the last few weeks, we've seen a number of mass market brokers start to dip their toes in this space with short notes to investors.
Let's start with online broker Stake which has just put out a useful overview of Beyond Meat, the US listed stock that has been the poster child for the alt proteins movement.
Stake's analysts report that "Beyond Meat is as much a science lab as it is a burger patty company. The team re-engineered plant proteins to mimic the 3D structure of animal proteins; a characteristic responsible for meat's more complex range of flavours and textures".
Stake says: "In their beef like products, pea meal is the primary ingredient in Beyond's products, where beet dye is added for the colouring and coconut oil is used for the 'melt in your mouth' experience unique to animal meats.
"Other additives are used to enhance flavour. To be clear, Beyond's products are non-GMO. While competitor Impossible Foods focuses on flavour, Beyond's initial goal is to replicate the appearance and the texture of animal meat."
In terms of hard numbers, Stake says: "In 2020, Beyond posted US$406m in revenues: 80 per cent came from retail sales and the remainder from supply to restaurants (foodservice)".
"Beyond's biggest distribution partners include KFC, Subway and McDonalds as well as Walmart and Publix. Lockdowns during the pandemic affected the demand for their goods in restaurants but the company was still able to increase revenue by 36 per cent year-on-year thanks to strong retail growth.
"Nationwide meat shortages forced consumers to consider alternatives as supermarket shelves sat empty. The meat substitute sector is expected to reach $23b in value by 2024. Interestingly, Kellogg's is the market leader in the retail market with 29 per cent market share. Beyond Meat sits in second with 22 per cent while Impossible Foods accounts for nine per cent of the market."
Stake concludes that although Beyond Meat is currently a $7bn company "it has tested giddier valuations in its past. In the three months following its IPO in May 2019, the stock rocketed up 250 per cent to give the company a $15b valuation. The company currently trades 50 per cent below that high at $110 a share".
"Crucially that valuation might be supported by Beyond's move from niche to mainstream," Stake adds.
Firstly, the team's scientists are focused on a better tasting product, to the point "products are indistinguishable from animal protein".
"Secondly, create healthier products. And finally, more affordable products. Currently, Beyond's burger patties retail for $2.50 each. A real beef or pork equivalent costs around $1.50. If they can reach these goals, CEO Ethan Brown doesn't just see Beyond competing in the multi-billion dollar alternative meat market but sit aside the biggest animal meat players in a $1.4tr industry," Stake adds.
London based stock broker Killik and Co has also recently put out a useful note on this space, highlighting Beyond Meat as well as the much lesser known Dutch firm DSM which is pioneering the concept of the "Clean Cow".
According to analyst Martin Maloney, Beyond Meat is already a key holding in its Killik Sustainable Global Equity Service – Killik reckons Beyond Meat could "play a pivotal part in helping to lower our reliance on animal protein and thus reduce the environmental burden".
Maloney continues: "According to analysis carried out by Euromonitor and Bernstein Research, meat alternatives have grown from 2.2 per cent market share in the United States in 2015 to 4.5 per cent in 2020, propelled by an increased acceptance of new-generation meat alternatives like the Beyond Burger, an innovative product which tries to emulate the taste and texture of real ground beef, even going so far as using beetroot juice to create the effect of bleeding meat.
"The product is stocked in the refrigerated meat section of supermarkets, thus enjoying much higher foot traffic than the frozen vegetable aisle where your run-of-the-mill veggie burger is usually kept, increasing awareness of the product among meat-eaters and so-called flexitarians – those who eat mostly plant-based foods, with the occasional inclusion of meat.
"By targeting a much bigger market than those that identify as solely vegetarian or vegan, we believe that companies like Beyond Meat can play a big part in preventing further increases in GHG emissions, land usage and water usage, as well as offering an alternative for consumers who are concerned about animal welfare issues."
DSM, meanwhile, a Dutch based material and life science company, is focused on remedying the environmental impact of the existing food chain, and especially livestock farms.
The challenge is huge - there are around 1.4 billion cows, each producing c.100kg of methane per annum.
DSM – another core holding in Killik's Sustainable Global Equity Service – reckons it has come up with a solution called "Clean Cow", which inhibits the methane-producing bacteria in a cow's stomach, reducing potential emissions by over 30 per cent.
According to the Good Food Institute, a non-profit that promotes alternative proteins, plant-based meat production could yield median savings of 88.5 per cent in GHG emissions, 93 per cent of land use, and 95.5 per cent of water use, when compared to conventional meat production.
Maloney also suggests investors keep a beady eye on Nestle's plant-based meat and dairy alternatives portfolio. Although this is currently less than one per cent of overall sales, it is growing much faster than its broader portfolio, with CEO Mark Schneider seeing it as a "once in a generation" opportunity to reinvigorate the food industry.
US investing website Motley Fool is rather less impressed by the FoodTech space – and Beyond Meat's share price in particular. One of its analysts Timothy Green says Beyond and alternative milk brand Oatly are a risky proposition.
Looking first at Beyond Meat, Green observes that Beyond Meat's sales to the foodservice industry are still declining, "so total revenue only ticked up by 11.4 per cent in the first quarter".
Green continues: "U.S. retail sales jumped 27.8 per cent, and international retail sales nearly tripled. The foodservice picture should improve as the pandemic ends, but my guess is that many restaurant chains will eventually opt to make their own plant-based products as the market grows.
"Beyond Meat is valued at about $9.2bn, good for a price-to-sales ratio of roughly 23. That's not quite as pricey as Oatly, but it's still extremely expensive for a packaged food company. Given Beyond Meat's sluggish growth rate, the fact that the company is not turning a profit, and the immense amount of competition, it's best to stay away."
Green is even less enthusiastic about alt milk business Oatly (NASDAQ:OTLY) .
The Swedish oat milks company has products in over 32,000 coffee shops and 60,000 retail stores around the world. Oat milk -- a mix of oats, vegetable oil, and water -- has long been popular in some European countries, and now it's quickly gaining steam in the U.S.
The Motley Fool analyst concedes that both Oatly's international expansion and its growing portfolio of oat-based products has resulted in "some impressive results, with revenue more than doubling in 2020 to $421m. With cash from its recent initial public offering in its pocket, Oatly has big plans. The company expects to pour as much as $1bn into capital expenditures through 2023".
Unfortunately, although those growth prospects seem promising there are a number of major headwinds, Green points out.
Green adds: "First, there is a lot of competition, and it's unclear how much brand matters when it comes to oat-based products. Food site The Kitchn sampled 20 different kinds of oat milks in March -- yes, 20 -- and Oatly was not a recommendation. The fact that there are even that many options should tell you right away that this market is going to be tough for Oatly to dominate in the U.S.
"Second, Oatly is not profitable despite being founded over 25 years ago. It posted a net loss of $60.4m in 2020, up from a loss of $35.6m in 2019. The company managed a gross margin just over 30 per cent, and it spends around 40 per cent of revenue on selling, general, and administrative costs. Oatly is certainly investing in growth, but this is not a start-up. This is a 25-year-old packaged food company that doesn't make any money.
"Lastly, Oatly's valuation is optimistic to say the least. The company is worth about $15.5bn, putting the price-to-sales ratio at 37.
"That ratio will drop quickly if Oatly can keep growing fast, but again, this is a packaged food company. Oatly is pricier than some fast-growing software companies. It's worth more than packaged food giant J.M. Smucker, which produced $8bn of revenue last year."
Green's bottom line is fairly bearish on Oatly: he worries that oat milk may be a fad that consumers eventually drop. "Even if it isn't, it's hard to see how Oatly can grow into its valuation anytime soon", he says.
Last but by no means least it's absolutely worth tracking down an excellent in depth report on the cultivated meat space by analysts at McKinsey.
You can read the report by Tom Brennan, Yossi Quint and Boyd Spencer here. It's a fairly comprehensive report but for us the key stand out points/stats are the following:
Despite huge growth potential, alternative proteins will still be a tiny share of market: By 2030, cultivated meat could provide as much as a half of one percent—billions of pounds—of the world's meat supply, with implications for multiple sectors.
No cost parity for cultivated meat until 2030: "If costs follow the same trajectory as that of human genome sequencing (for which costs, on average, dropped by 45 percent annually between 2001 and 2021), cultivated meat can achieve cost parity with conventional meat by 2030.
Investment money is starting to flood into the space: "The industry, which at present comprises fewer than 100 start-ups, attracted roughly $350 million in investments in 2020 and about $250 million thus far in 2021 from some of the largest animal-protein players, including Tyson and Nutreco, and well-known investors, including Temasek and SoftBank."
The traditional animal protein market is still growing though: "The animal-protein market is growing 1 percent annually, with volume expected to reach 531 million tonnes by 2030."
Potentially a huge global market within just four years: "If consumers take to these products, the market for cultivated meat could reach $25 billion by 2030."
Is the infrastructure in space to cater to increased demand ? "Reaching a $25 billion cultivated-meat market by 2030 will require the annual production of 1.5 million tonnes of cultivated meat. At current levels of cell-culture productivity, the industry would need anywhere from 220 million to 440 million liters of fermentation capacity, enough to fill 88 to 176 Olympic-size swimming pools. Considering that the pharma industry's current cell-culture capacity is estimated to be between 10 million and 20 million liters4 (less than ten swimming pools), it will take a massive capital build-out just to reach one per cent of the protein market."
The Bigger opportunity? "Cultivated meat can also go one step further and select cell lines from animals that are not widely eaten because of their low meat content, long growing time, or lack of availability. For example, ostrich meat, a product that has challenged many ranchers, could be cultivated and become a trendy low-fat, red-meat alternative. There could even be room for highly creative product innovation: the industry's imaginative take on dodo poultry could make a better nugget than chicken, or a burger made of what research chefs think mammoth might have tasted like could be a mouthwatering new concept."
Consumers do seem willing to pay extra : "…there is evidence in today's marketplace that consumers are willing to pay extra for products they believe to be healthier or more sustainable."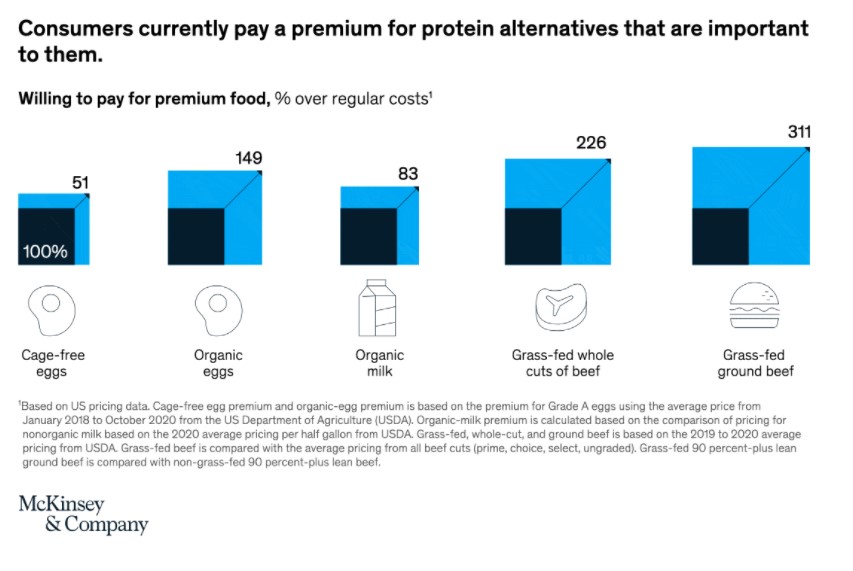 The Challenges for the sector
Focus on execution : "Eat Just's chicken product sold in Singapore, for example, is more than 70 per cent cultivated cells, with a small amount of plant protein added in for structure, while Future Meat in Israel mixes cultivated fat with plant protein. It's too early to tell if blended options are merely an interim fix or if they present a sufficiently compelling option for long-term adoption."
Focus on consumer trust: "The onus will be on producers to make consumers confident that cultivated meat is as safe—and as nutritious—as conventional meat products. While this may be a hurdle in the near term, health and nutrition may prove an advantage in the longer term if cultivated-meat producers can demonstrate a track record of safety (for example, by minimizing foodborne-illness risk) or release tailored (for example, "extra lean") products with superior nutrition profiles."
Focus on cost: "…cultivated meats will initially bear a premium price tag, which may put it out of reach for some consumers, though prices will likely fall as the industry scales". The high cost is a result of lab-scale and pilot-scale production and remaining technical challenges. Based on a McKinsey analysis, about 75 percent of costs can be eliminated through increased scale and best-in-class manufacturing processes, while roughly 25 percent of additional costs can be eliminated by fine-tuning R&D, bringing the total cost down 99.5 percent, from the low thousands of dollars to under $5 per pound. Further cost reduction can be achieved by blending cultivated meats with plant protein."
The big policy challenge : "…[the] very different skills required by cultivated meat raises the question of how labor will be reskilled and redeployed….For every 500,000 metric tons of cultivated protein (roughly 0.1 percent of the 2030 global protein market), 5,000 to 5,500 factory jobs are likely needed, which is about the same number of production jobs needed to produce protein through conventional methods. The majority of jobs are expected to be those of frontline staff (such as plant operators and supervisors), while 10 to 20 per cent of the profiles are expected to be for bio-processing engineers. Beyond direct production, jobs will also be needed to support development of key inputs (such as media, cell lines), equipment (such as bioreactors), non-plant tasks (such as marketing, finance), and R&D."
The picks and shovels imperative: "The cultivated-meat industry will require an ecosystem of businesses to provide cell lines, growth media, bioreactors, sensors, extrusion equipment, and more. Fermentation companies, for example, can develop tailored growth media; the industrial-enzymes industry can make signalling compounds (such as insulin and growth factors) at scale and at food grade, not pharma grade; and farmers with animal breeding lines that have superior taste characteristics could provide cell lines for replication."
Exhibit 6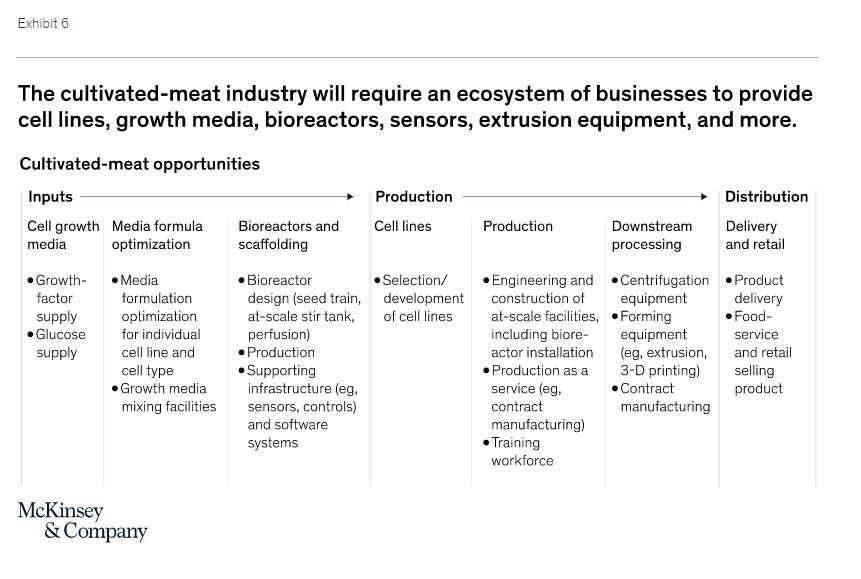 Rolling out the infrastructure : the challenges for the picks and shovels infrastructure
1. Figure out the raw-materials supply chain : "Considering only the consumables and raw materials needed for cultivated meat, scaling the industry will require, at minimum, access to large and consistent supplies of sugar, basic media components, and more complex media components such as growth factors. Of these, sugar is the most straightforward in that the needs of cultivated meat are similar to other fermentation processes: cells need energy in the form of sugars to grow."
2. Develop a streamlined manufacturing process: "Consistent with virtually any scaling of an industrialized process, cultivated-meat production will require simplification, including limited unit operations and human intervention. The ability to design 'cookie cutter' facilities that can be rapidly built at tunable capacities throughout the world will be key."
3. Create easy-to-build factory designs: "Factories and factory components need to be highly modular so they can be located wherever there is access to affordable feedstocks (primarily energy and sugar) and receptive customers (population centers). Therefore, the ability to design 'cookie-cutter' facilities that can be rapidly built at tunable capacities throughout the world will be key to supporting the industry's expansion."