Commentary
Future Food Finance offers its take on the recent funding campaign by Meatless Farms and compares its progress to some of its peers.
FutureFoodFinance regulars will be well aware that we think the growth potential for alternative protein is huge.
Morten Toft Bech, the founder of Meatless Farm, sums it up nicely with this comment: "The plant-based meat market in the U.K. alone has doubled in the last two years and it is predicted that the overall global plant protein market will grow by a whopping 700 per cent by 2035 with the market to be worth around $290 billion.
"Another research study by analysts at Barclays said that there is a larger opportunity for this market than was projected for electric vehicles ten years ago."
At the moment, the UK market seems to be growing at a 40 per cent year-on-year clip but we suspect this is a lowball estimate for the medium term.
As customer awareness improves, competition intensifies and cultured meat enters the market (by mid-decade at the latest) we think that growth rates of above 50 per cent per annum are entirely possible.
Given this positive market backdrop, it's no surprise that Meatless Farm has decided to recently kick off a big crowdfunding campaign. You can see the Crowdcube campaign page here. It has already raised nearly £3m, eclipsing its target of £2m, and is still open to investors.
Clearly, the ostensible purpose is to raise money but if we're honest most funding for this segment of the FoodTech market tends to come from venture capital firms and thus we suspect there's also a big element of using the campaign as a brilliant marketing tool. If the business can raise as much as £5m all the better – this round of fundraising will be cornerstoned by Bridford Investments.
Since its launch, the company has raised a total of £38.4m from investors through a series of fundraising rounds from private and family office investors such as Channel 4 and vegan VC, Stray Dog.
The company has also indicated that it intends to raise up to $75 million - so a £2m plus raise through the crowd, though not immaterial, is only a small part of its capital pipeline for the next year.
Crucially, FoodTech and alternative protein businesses have proved hugely popular on UK crowd investment platforms: rival Heura raised €4 million ($4.8 million) within only 24 hours of its Crowdcube campaign and plant-based brand THIS attracted £4 million ($5.24 million) through its Seedrs campaign in just 2.5 days last year.
Business Basics of Meatless Farm
Meatless Farm products are all 100 per cent plant-based, gluten-free and made with non-GMO ingredients. Products include mincemeat, sausages and burgers.
Launched in 2018, the products are available in 20 countries in Europe, Asia-Pacific, the US and the UAE.
To date the main channel to market for Meatless has been working with retail and foodservice partners.
The business says it recorded a 148% year-on-year net sales growth in 2020 and it claims to be one of the U.K.'s top three plant-based brands, alongside established brands like Quorn and Linda McCartney.
130 staff around the world.
Its products are used (in foodservice) by Pret A Manger, Itsu (meatless meatballs), Leon (Love Burger).
Industry website Green Queen reports that during "Veganuary, Meatless Farm recorded its highest sales ever, appearing on menus at U.K. highstreet lunch mainstays Pret, Leon and itsu, and Nathan's Famous in the U.S., as well as working with football giant Real Madrid to offer the team's players plant-based meat dishes. The brand also partnered with world champion cyclist Mark Cavendish'.
The current campaign
Given the pace of new fundraises within this space, we'd be the first to admit that the timing for this campaign is spot on. Investor interest is intense but perhaps more importantly the industry is accelerating its growth rate.
Meatless Farm says it is raising capital in 2021 to help fund the introduction of 12 new products within the next six months. New products are needed fast if Meatless Farm is to hit its ambitious target of a market share of 0.7 per cent of the global plant based meat market by 2025.
Last year, revenues grew by 148 per cent globally and 44 per cent in the UK and the brand says it's the 3rd best known plant-based brand in UK market (the UK dominates its top line comprising over two thirds of sales).
As one would expect the business is currently loss making (EBITDA was -$16.8m in 2020) but Meatless believes it can boost the gross profit margin to a 30 per cent to 40 per cent range by 2025 and run at a EBITDA positive rate by 2023. Sales in 2020 amounted to £8m.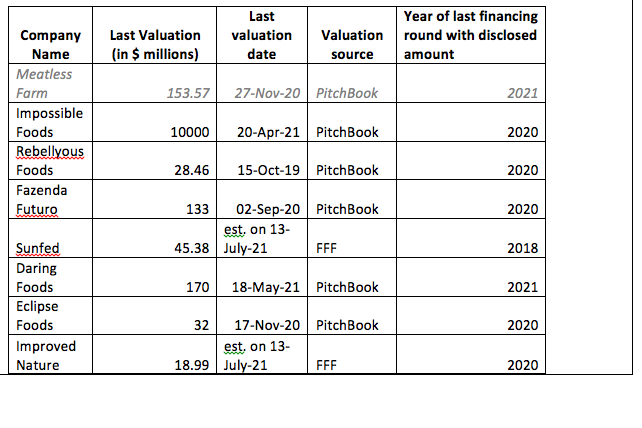 Global expansion
The key for a high growth business such as Meatless Farm is its ability to scale up. That means not only increasing the range of products – and improving gross contribution margins – but also reaching new international markets. And on that score, Meatless Farm seems to be making steady progress.
Back in December last year, for instance, Meatless Farm announced that it had expanded its retail and e-commerce distribution in the US "and will soon be launching a dozen new products within the next six months" according to Green Queen.
Green Queen said: "The company, which first entered the U.S. market in 2019, says that it's doubling down within its stateside operations comes as demand for plant-based foods reaches an all-time high. It also revealed that it has intentions to raise US$75 million in the new year to fuel its growth globally….. Meatless Farm has now added all 110 locations of Lidl, Central Market, Earth Fare and Lowe's Market to its U.S. retail roster, which already includes Whole Foods, Fresh Thyme and Fresh Direct.
It added: "In addition to bolstering brick-and-mortar presence, Meatless Farm is launching its products via online direct-to-consumer platform Farm Shop. The company says that it also plans to launch foodservice in the U.S., though specific restaurant partnerships have yet to be announced. "
Another example of this push for global brand status is that it recently opened a Canadian facility in Calgary in order to "debut a new business division that will see the startup produce as well as supply plant-based proteins and ingredients to companies across the globe" according to Green Queen. This new Canadian facility cost £8.5m ($11m), and will produce up to 14,500 tonnes of plant protein ingredients by 2023.
Back in Europe, the business also announced a partnership with Real Madrid to reduce meat consumption and encourage sustainable eating habits among players and to demonstrate how plant-based foods can be a part of a 'balanced diet', help minimize the environmental impact of food, and promote cultural change for one's wellbeing.
Risks?
Of course, foodtech and the alternative proteins space is terrifically exciting and full of potential, but that disruption potential hasn't gone unnoticed. There are dozens of startups targeting this market opportunity plus a slew of existing plant-based alternative protein providers out there – not least Beyond Meat and Impossible Foods.
Beyond this peer group there is another much more obvious threat – existing food conglomerates.
Green Queen recently pointed to research that indicates "that as many as 40 per cent of the largest food manufacturers and retailers in the world now have exclusive plant-based teams to innovate and launch vegan products".
Take the new Canadian plant as an example of the intense competition. We believe Canada and the Mid West of the US is an obvious growth market but Meatless Farm and its new facility will face intense competition even in this discrete geography.
Green Queen reports that the multinational ingredients firm, Ingredion, recently expanded its plant-based solutions for the food and beverages industry, adding two pea-based ingredients to its Nebraska-based pea protein factor. Here in Europe we're seeing rapid expansion of competitor facilities with Beyond Meat in particular targeting the lucrative, high margin European market.
But this competition is only the first stage of a massive disruption coming down the track. Meatless Farm is part of a plant-based vanguard, pushing mass market products into supermarkets and fast food outlets.
Many investors in this space think that both upstarts and existing major players will struggle to maintain margins in the 30 per cent to 40 per cent range as competition intensifies with cultured meat the next big threat.
Some investors such as Jim Mellon, founder of Agronomics, think that there's precious little intellectual capital to protect capital values in the plant based alternatives space – they would rather invest in cultured meat using unique patentable formulations, and fermentation processes.
Indeed, Nestle just announced that it is "(evaluating) innovative technologies to produce cultured meat or cultured-meat ingredients with several external partners and startups" and Bloomberg reports that Israeli cell-based startup Future Meat Technologies Ltd is one of the cultured meat companies Nestle is talking with.
We suspect that at some stage Meatless Farm might have to make a move into this cultured meat market if it wants to remain independent, but it will mean more investment and heavy capital spending.
So, investors face a choice – do they bet on the existing disruptors or do they wait for the next generation of players? We can't answer that question except to say that the existing brands are making headway and that investors seem very keen – which helps push up valuations.
We think a useful comparison is with Beyond Meat which is listed on the US markets and provides some useful reference points. At its current share price of $138, its valued at $8.8 billion.
In 2020 it boasted revenues of $406m or £290m, which is only a little above where Meatless Farm thinks it can get to by 2025. Yet even at this run rate - and market reach – Beyond Meat is still loss making. The table below gives us some idea of key P&L numbers. In the latest year the pre tax loss was $52m and the EBITDA loss $36m. Gross profit margins for the last two years have been running in the 30 percent to 33 per cent range.
Meatless Farm thinks it will soon be in profit and that operating margins by mid-decade should be in the mid to high thirties as a percentage of sales. Using Beyond Meat as a reference point we'd suggest that its revenue targets are 'possible/achievable' – Beyond Meat's sales ramp was not unlike Meatless Farm's own projections.
Also Meatless Farm's target for margins is not outlandish though we suspect a little on the high side, particularly as this becomes an intensely competitive space with heavy brand spending. Where we'd be slightly more cautious is the idea that Meatless would be solidly profitable once sales gets into the hundreds of millions. If Beyond Meat is a yardstick we'd be much more cautious.
Then again investors also need to factor into their analysis the knowable unknowable – to borrow a phrase from the late Donald Rumsfeld. The name of the game in the alternative protein space is increasingly one of consolidation and merger and acquisition activity. We'd hazard a guess that Meatless Farm needs to scale up fast globally – and across product categories – because that might make it more attractive to acquisitive established food majors who'd want to buy into this most sustainable of food markets.
ESG friendly investors might react with horror to such corporate venturing but it can work – L'Oreal's acquisition of The Body Shop hasn't tarnished the brand and we think majors like Nestle (see above) and Unilever (which owns sustainable brands such as Ben and Jerrys) will be anxiously watching this space and working out how to buy into the right brands.
How one values such potential M&A activity is essentially unknowable. Given that we don't know what valuation is effectively being placed on Meatless Farm in this fund-raising round (since the instrument of investment is a convertible loan note rather than ordinary shares), we are effectively operating in the dark.
That said, the current fund raise is only for convertible loan notes, which convert into ordinary shares at the next corporate fund raise, which is likely to be next year we'd suspect. In the meantime convertible noteholders get a 15 per cent discount on that future share price plus 5% interest. So, in effect one is paid to hold an option note on the future valuation of the business.