Commentary
Food Delivery
Grocery Delivery
Alternative protein
Plant-Based FoodTech
An overview of the stocks in Future Food Finance's FoodTech and AgTech index and a look at how the sectors have been performing of late.
Future Food Finance's FoodTech stockmarket index of publicly listed companies launched last week. What's inside the index and how has it performed?
Many moons ago a wise investment banker once told the author of this article that there "was never a great time to launch an IPO of a new stock. You're either too late to the party and everyone thinks you should have done it months ago, or you are too early and everyone wonders why you bothered".
These words ring true as we dig around inside FutureFoodFinance's brand new stockmarket index, focussed on the nascent FoodTech sub sector. We developed the index to capture many of the key trends that are analysed and discussed in detail on this website, incorporating everything from home food delivery technologies through to next-generation foodstuffs such as cultured meat.
We deliberately set out to be 'liberal' in our take on what constitutes FoodTech – we didn't want to focus just on the 'sexiest' parts of the spectrum such as alternative proteins. We also wanted to include a broad geographical mix that took in everything from China through to Israel.
Precisely because an index is not an actively managed fund, that deliberately broad scope of stocks and sectors included within the index ends up taking on a life of its own and as you can see from the table below, in performance terms the numbers haven't been great so far. Over the year to the 20th October the index has lost two per cent whereas the S&P 500 has soared ahead with a 32 per cent gain.

The brutal truth– as alluded to in an earlier article on this site – is that many of the biggest FoodTech companies have found themselves tumbling recently into what constitutes something approaching a bear market.
The table below shows some of the biggest stocks in the index and as highlighted in the six months returns column outfits such as Just Eat, Beyond Meat, Ocado Group, Delivery hero and Dada Nexus have all had a brutal re rating in share price terms. These losses have swamped the gains of stocks such as Belchem and Codexis which have both stormed ahead of most benchmarks.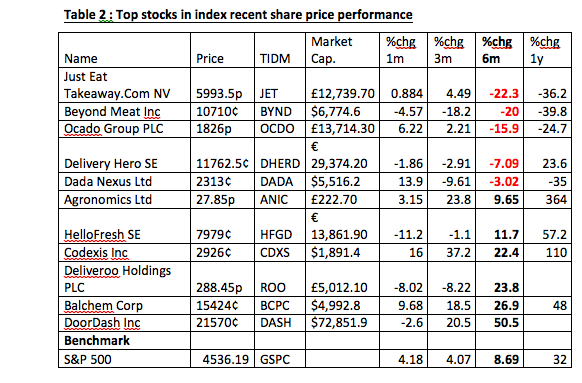 These returns numbers need to be taken with a large pinch of salt – they are just a series of snapshots in time and can just easily reverse (or worsen) given the nature of fickle and momentum driven equity markets. We include them just to be honest with our readers – FoodTech as a sub sector within the broader public markets has not had a great 12 months!
That said, if one listens to stockmarket analysts then the future does look a bit brighter than these numbers suggest. In the big table below we've pulled out from Yahoo Finance the average analysts rating for stocks within our index, with a value of one representing a very strong buy and five a very strong sell. Overall, nine of the stocks currently have a strong buy rating and another 21 a buy.
None of the stocks have a sell rating and eight have no rating at all. On average the rating for stocks in the index is two which represents a solid buy.
Obviously, one also needs to treat these analysts' ratings with enormous caution – they are just forecasts and there's an inevitable bias amongst most big investment houses towards a buy recommendation. Few analysts have ever made their name by accurately predicting that a business is a dog of a stock, especially if the corporate advisory side of the business represents said company!
Table 3: Analysts recommendations at stock level
Source : Yahoo Finance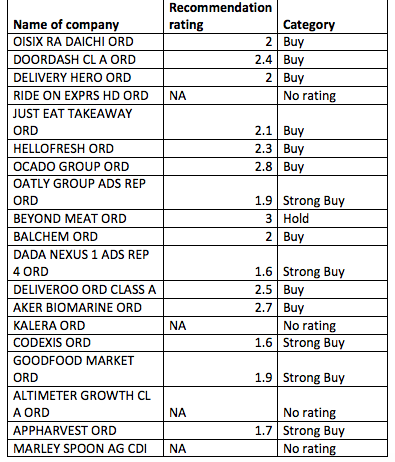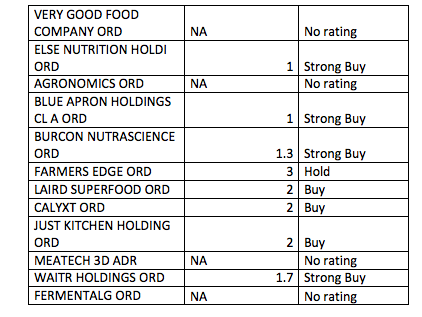 Arguably though a bigger challenge remains if we step back and examine the wider contest behind the index – the FoodTech space is still small and underdeveloped. Our thesis, which the index, will either prove or disprove, is that over the next decade the sector will blossom and deepen.
Currently, there are less than 40 stocks in the index whereas we believe – a mere projection, we concede – that there may be over 100 stocks within the index within a matter of just a few years. If the SPAC and IPO pipeline closes down in a brutal stockmarket sell off that 100+ projection might take a few more years to emerge, but we feel confident that the transformational forces shaping our food systems are about to have a huge impact on the public markets.
In the meantime, the index has to reckon with what ticks our boxes at Future Food Finance in terms of eligibility criteria. So, what's inside the index? In sheer numbers terms, the index boasts a long tail of much smaller companies by market capitalisation, with 16 stocks boasting a market cap below $1 billion of which most are valued at under $500 million.
The index is market cap weighted though and thus that long tail doesn't really have as much impact as the big, valuable mega large caps in the index such as Doordash, HelloFresh and Delivery Hero. These three companies alone account for over 35 per cent of the value of the index. In total there are over seven businesses with a market cap of in excess of $10 billion.

The FoodTech space contains within it a broad spectrum of sub sectors, listed in the next table below. As you might expect, alternative proteins as a product category is the dominant one, with nine businesses offering products within that fast-growing consumer segment. But in terms of market capitalisation of constituent companies, the dominant sub sector is an unsurprising one – home food delivery, offered by six of the companies. If we add in grocery delivery and home food kits, we can see that the dominant product category at the moment is the dispatch and transport of food – in all shapes and sizes – to the last mile of the consumer ecosystem.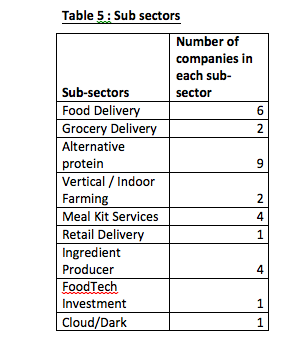 As for the geography of the businesses in the index, it will probably again come as little surprise to discover that North America is the home of the largest number of businesses – 15 have their HQ in either the US or Canada. The European Union, again unsurprisingly, comes in second, with 7 businesses (in France, Germany, the Netherlands and Sweden) while the UK, Israel and Norway all boast two business HQs each. For us the surprising numbers come from Asia, with Japan hosting two HQs and China just one.
If we had to dust off our crystal ball and offer up a guestimate of where the 100+ companies in the index by mid-decade will be based, we'd suggest that Asia will be very much more prominent – if we had to stick a finger in the air we'd suggest that anything between 25 per cent and 50 per cent of those projected 100+ companies will be Asian by 2025.

We'd finish with one last observation – just four of the companies in our index are currently profitable in a narrow operating sense. That sounds fairly shocking on a first read but in truth this is an index that boasts a strong contingent of tech-related, fast sales growth businesses who are probably choosing to sacrifice profit margins for top line, global scaling up of their product set. The test for the broader FoodTech sector will be how long it takes for these pioneers to turn market share at the global level into hard cash profits.