Commentary
Food Delivery
Grocery Delivery
Alternative protein
Plant-Based FoodTech
Overall, the new FutureFoodFinance Foodtech Index recorded a loss of 1.2 per cent in October, which was behind the majority of major equity indices. Here we look at the performances of some of the companies in the index.
The new FutureFoodFinance Foodtech Index recorded a loss of 1.2 per cent in October, lagging most major equity market indices. By comparison, the S&P 500 index was up seven per cent over the same period (October) although the small cap S&P 600 index only increased by three per cent in value over the month.
FFFF Index October return : start level 7271.52, end level 7185.10
October Price Return for FFFF Index : -1.18%
Other benchmarks
S&P 500 Return in October: +7%
S&P 400 Mid cap index: +6%
S&P 600 Small Cap index: +3%
The table below summarises notable gains and losses for companies within the index.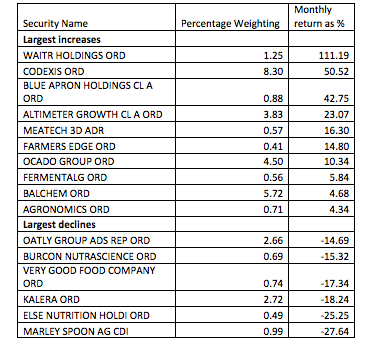 Looking at constituents with a positive contribution to the index, Waitr Holdings provided the biggest gains over the month, more than doubling in value, and notching up a return of 111 per cent.
Waitr – a specialist in on-demand food ordering and delivery - has been busy signing deals with big brand partners including restaurant chain Denny's, Uber and Olo, the B2B Sas firm. Morgan Stanley also earlier in October disclosed a 10.3 per cent stake in Waitr.
Next up Codexis recorded a gain of 50 per cent in October. The share price of Codexis – a producer of custom industrial enzymes – has been showing strong positive price momentum for months now and boasts Cathy Woods Arc as a big owner of the stock (Motley Fool has it as one of her 15 biggest small cap holdings).
US investor service Zack's also recently highlighted positive momentum in its share price based on trend investing: "A solid price increase over a period of 12 weeks reflects investors' continued willingness to pay more for the potential upside in a stock. CDXS is quite a good fit in this regard, gaining 41.6 per cent over this period….CDXS is currently trading at 88.6 per cent of its 52-week High-Low Range, hinting that it can be on the verge of a breakout.
"Looking at the fundamentals, the stock currently carries a Zacks Rank #2 (Buy), which means it is in the top 20 per cent of more than the 4,000 stocks that we rank."
Meal kit maker Blue Apron saw its share price increase by 42 per cent. Blue Apron announced that it had commenced "a $45 million rights offering that it previously announced as part of a planned $78 million capital raise".
In other notable moves, UK based online grocer company Ocado saw its share price increase over 10 per cent while UK listed FoodTech fund Agronomics notched up a 4.3 per cent share price gain.
In terms of stocks in the index recording notable losses, alt milks business Oatly continued to see its shares drift down, recording a 14.6 per cent decline in October while vertical farming specialist Kalera saw its share price decline by over 18 per cent.
Else Nutrition, which sells baby alt milk and food products, saw its share price decline by more than a quarter after announcing that it had closed its public offering after raising $17.3m.
Marley Spoon, focused on subscription meal kits, recorded the biggest losses in the index, with the shares declining by 27.6 per cent in value in October. This comes despite a recent third quarter update which saw Q3 net revenue increase 14 per cent to €79.2m.
Top 10 Constituents in the index for October 2021