Commentary
Food Delivery
Grocery Delivery
Vertical / Indoor Farming
Meal Kit Services
Returns from the FFF FoodTech Index continued their recent poor performance in January, with the index falling 18.8 per cent in the first month of 2022.
It has been a dismal start to 2022 for the FFF FoodTech index. After a 12.2 per cent loss in December 2021, the FoodTech index fell 18.8 per cent in January. This big fall towered over the wider stock market sell off which saw the S&P 500 decline by just over five per cent in January. It's evident that in this huge rotation out of growth stocks, the FoodTech sector is being hit especially hard. All bar one stock declined in value.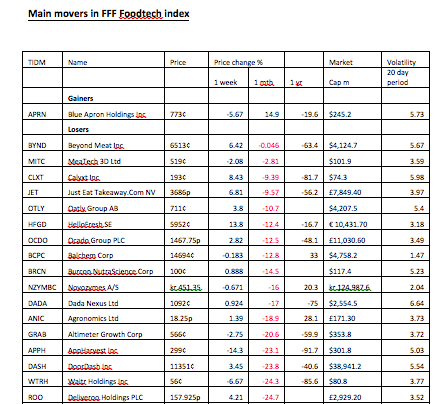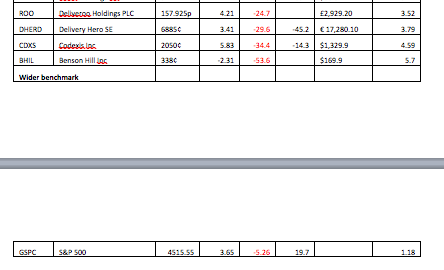 The only stock in the index to show a positive gain was home food box business Blue Apron. Launched in 2012, the US firm offers fresh, chef-designed recipes that "empower home cooks to embrace their culinary curiosity and challenge their abilities to see what a difference cooking quality food can make in their lives".
The relative outperformance in January should be seen in a wider context – over the last three years the shares in Blue Apron are down around 66 per cent and over the same period the business has seen its revenues shrink by 14 per cent per year.
There doesn't seem to be any obvious driver for the outperformance, aside from the announcement that Blue Apron has inked another partnership deal with Panasonic.
Blue Apron has announced that it will release its fourth quarter and full-year 2021 financial results prior to the opening of the US financial markets on Thursday, February 10, 2022 – no doubt analysts will be watching carefully for signs of improved trading post lockdown.
Blue Apron did announce a two per cent revenue increase in the third quarter of 2021 with sales up 10 per cent. Average order spending rose to a record at over $62.
In terms of losers, recent SPAC Benson Hill topped the list with a decline of 53 per cent in its share price – it listed at $10, as with nearly all SPACS, and its shares are currently priced at $2.74 share, a decline of over two thirds since its recent listing.
Benson Hill describes itself as a "food technology company founded in 2012 with a mission to deliver food made better from the beginning". Through its CropOS® technology platform, which combines data science, plant science and food science, Benson Hill aims to leverage "the natural genetic diversity of plants to deliver seed innovation that enables healthier, better tasting, more sustainable and more affordable food and ingredient options".
In January 2022, the business did announce the acquisition of ZFS Creston, LLC, "an established food grade white flake and soy flour manufacturing operation in southwest Iowa for approximately $102 million primarily financed through a new debt facility. The investment fulfills a final step in Benson Hill's ability to convert its proprietary soybeans into value-added soy protein ingredients for the underserved human and pet food categories".
Another recent FoodTech SPAC AppHarvest had a slightly improved January. Although its share price was down 23 per cent - it's currently trading at around 300c a share, another big decline from the initial $10 – it has just announced that it expects to report "achieving the higher end of its guidance range for full-year 2021 net sales and non-GAAP Adjusted EBITDA. AppHarvest now expects to report 2021 net sales in the range of $8.9 to $9.1 million, versus a previously announced outlook of $7.0 to $9.0 million. AppHarvest also expects to report a net loss in the range of $170.0 to $172.5 million and now expects an Adjusted EBITDA loss in the range of $69.3 to 72.5 million, versus a prior outlook of an Adjusted EBITDA loss of $70.0 to $75.0 million".
AppHarvest is a leading AgTech company building some of the world's largest high-tech indoor farms to grow affordable, nutritious fruits and vegetables at scale while providing good jobs in Appalachia.
Shares in synbio and enzyme engineering firm Codexis have been sliding for the last few months and in January the shares declined by 34 per cent in value. The business is involved in "the discovery, development and commercialisation of engineered enzymes that are used by its partners to develop effective drugs".
It adds: "The company also grants rights to its proprietary CodeEvolver protein engineering technology platform to global pharmaceutical companies for developing enzymes. Codexis has collaborations with popular pharma companies, including Novartis, granting them rights to CodeEvolver."
Codexis did have one piece of good news in January though - the U.S. Food and Drug Administration (FDA) announced that it had granted "the company orphan drug designation (ODD) for CDX-6512 for the treatment of homocystinuria. CDX-6512 is a gastrointestinal-stable methionine-gamma-lyase, as a potential orally-administered enzyme therapy for homocystinuria (HCU).
The FDA also granted the company rare pediatric disease (RPD) designation for CDX-6512. CDX-6512 is currently in pre-IND development and is the most advanced wholly owned program in the Company's biotherapeutics pipeline."
The home food delivery sector continued its recent slide in January – sentiment has turned notably bearish on major players such as Delivery Hero and Doordash, partly inspired by the threat of tougher regulations and also increasing competition.
Delivery Hero's shares slid just under 30 per cent in January, while DoorDash saw its shares decrease by 23 per cent in value. Despite these losses, the Germany-based Delivery hero has had a busy last few weeks – it has taken a majority stake in Spanish peer Glovo, sold down its holding in Latin-American company Rappi and then last week announced to investors that it would break even within months.
The company also announced that it is looking to build out an ads business as well as a buy-now-pay-later service. Bloomberg reports that "with no slowdown of activity anticipated, 2022 is instead set to be marked by battles over market share through consolidation". In the same article, Jefferies analyst Giles Thorne said "the market's appetite to fund European loss-making technology companies is diminishing".
UK home grocery and robotics business Ocado also hit the headlines in January. PA reports that its "ongoing legal battle with US rival AutoStore has been put on hold by a German court after questions were raised over the action. Munich District Court suspended proceedings brought by Ocado for an order to block the sale of AutoStore's B1 robot in Germany, amid concerns about Ocado's intellectual property rights.
The court considered that, despite Ocado having made significant last-minute amendments to the claims for its utility models, they are likely to be invalid.
It said this is because the claims are seeking to cover more than had been disclosed in the application for the utility models as originally filed, and told Ocado it is trying to make a claim over technology it did not invent. The online grocer and technology company brought the action against AutoStore in Germany, with the latter filing its own claim of patent infringement in 2020." Ocado's shares were down 12.5 per cent in January.