Commentary
Alternative protein
Plant-Based FoodTech
FoodTech Investment
Future Food Finance cherry-picks the stories we think should be on the radar of investors.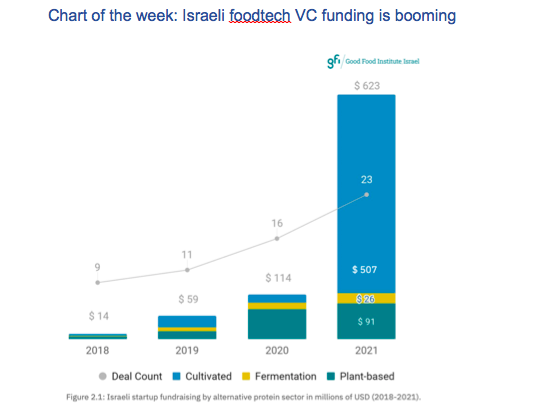 Israel's alternative protein sector has experienced its biggest investment year on record, according to a new report. Industry startup raised $623 million last year, a 450% increase on 2020's $114 million.
https://www.greenqueen.com.hk/israel-alternative-protein-investments-2021/?ct=t%28OCT+8+2020+INDUSTRY+SCOOP_COPY_01%29
and
Israeli food giant Tnuva launches VC fund. Israeli food giant Tnuva has launched a new venture capital fund focused on investments in new food tech startups and companies, the firm announced on Sunday. Tnuva said the new fund, Tnuva NEXT, adds to the company's overall 2021 investments in food tech ventures which totalled some NIS 30 million (US$9.28 million) over the course of the year. The company said it expects to invest approximately the same amount in 2022.
https://www.australianjewishnews.com/israeli-food-giant-tnuva-launches-vc-fund/
Big Trends: Watching Carbon offset markets
With the climate clock ticking, companies and individuals are expected to pour $100 billion into the carbon offset market by the end of this decade, up from about $300 million in 2018, according to Mark Carney, who is heading up a major private sector task force on how to improve carbon offsets.
https://www.cmegroup.com/openmarkets/commodities/2021/the-new-market-for-carbon-offsets.html?mkt_tok=ODQzLVlHQi03OTMAAAGDMZU-8MAXB9kaob8XG_24C8ejPnub2haOjIsP12PmK21ILwLmRcMfFegzaOgXlfCQQ0SPqGO3iOiOlzJOAKoqJHQXIhqvCe1YPRhGBfdY4iP3XcsD2A
Big Trends 2: Rise of Precision Agriculture
Fascinating interview: "The future in agriculture lies in finding a way to successfully utilize the data accumulated and apply this to enforce better decision making. Artificial Intelligence will initially be a difficult sell in the agricultural realm, though various companies are making important in-roads into the sector. It is definitely a direction we are putting a lot of emphasis on. Then also investing in the transitioning from synthetic fertilizers to organic fertilizers, chemical to biologic pest control. Good results have already been achieved, but a lot of research, trials, and data is needed to achieve this".
https://www.agribusinessglobal.com/agtech/investing-in-the-future-securing-the-promise-of-precision-agriculture/
Wall Street Journal on Oatly's challenges
Manufacturing delays contributed to recurring shortages of Oatly's products in American coffee shops and grocery stores. One of its biggest customers, Starbucks Corp. , took on another oat milk supplier when it ran low on inventory just weeks after launching with Oatly last year. Some employees and other people familiar with the matter grew disillusioned, saying top executives didn't live up to the messages of sustainability espoused in ads. Some were dismayed at one factory's wastewater treatment, and another factory's limited recycling, which resulted in Oatly cartons piled in the trash.
https://www.wsj.com/articles/oatlys-growing-pains-trip-up-pioneer-of-oat-milk-11647277149
Grocer article features FFF's Paul Cuatrecasas
Wider market factors are drumming up interest too, points out Paul Cuatrecasas, co-founder of Future Food Finance, a platform targeted at those looking to invest in food tech. "[2021] was a big year across the entire venture capital sector," he says. Indeed, investment activity across both Europe and the US more than doubled last year with a sharp rise in food tech as a whole. "Clearly, the cultured meat space benefited from the overall groundswell of venture investing because of interest rates being low and government stimulus during the pandemic, says Cuatrecasas. He echoes Chow in claiming "2021 was the year the promise of cultured meat became more real."
https://www.thegrocer.co.uk/future-of-meat/is-cultured-meat-pure-science-or-a-billion-dollar-con/665494.article
Agronomics invests in pet food alternatives
Agronomics and Roslin Technologies Limited, a food biotechnology company, announce launch of their first joint venture, Good Dog Food, a novel range of healthy, eco-friendly pet food products made using cultivated meat. Food for companion animals accounts for almost a quarter of meat produced in the US2, and in the US alone it is estimated dog and cat food is responsible for 65 million tons of CO2-equivalent methane and nitrous oxide3.
https://www.thetimes.co.uk/article/lab-grown-meat-will-feed-your-pets-without-costing-the-earth-cs2kw0h8t
Jim Mellon Interview in The Times newspaper
"If the value of the electric vehicle market is predicted to be $3.6 trillion we think this cultivated meat materials market is worth $5 trillion. Around 80 billion animals are slaughtered every year, two trillion fish, we can't go on like this," he said. Mellon believes that the war in Ukraine, which has exposed the fragility of food supply chains, hastens the need for alternatives to be found.
https://www.thetimes.co.uk/article/billionaire-jim-mellon-has-a-big-appetite-for-the-new-frontier-in-food-9gkbfzsps?shareToken=0988e852367cd5b3980fe1b60940b04d
RIP plant-based meat mania?
Great Substack blog on why food based might be in trouble. Highlights 3 dynamics about plant-based meat mania....
(1) Timing - conditions over the last 24 months were all that plant-based meat companies could have hoped for, but it wasn't enough.
(2) Competition is fierce and growing, which will continue pressuring (already negative) margins.
(3) Plant-based meat: it's still just a veggie burger.
What I find most interesting about Beyond's latest quarter results is that while total revenue was only down 1.2% YoY, retail sales were down 19.5%. Foodservice is the sales channel where Beyond is moving more product YoY. But my hypothesis is that much of the foodservice lift is from QSR chains like Burger King and White Castle trying to get a PR lift.
https://primefuture.substack.com/p/rip-plant-based-meat-mania?token=eyJ1c2VyX2lkIjo0MzY5NzgsInBvc3RfaWQiOjUwNTU3Nzk2LCJfIjoiN2dRaCsiLCJpYXQiOjE2NDc4NjI0MjksImV4cCI6MTY0Nzg2NjAyOSwiaXNzIjoicHViLTI5OTc5Iiwic3ViIjoicG9zdC1yZWFjdGlvbiJ9.jEOgLqFci53dA9auEXS2LQJDT6MIeeYbwOBavhrQdas&s=r
Worth reading: alternative milks under the scientific spotlight
While these "animal-free" dairy brands are promising lower-carbon, kinder products through technology, they may also be benefiting from the fact that most consumers know little to nothing about the science it relies on. And a number of the scientists and food system advocates Civil Eats spoke to worry that a loophole at the U.S. Food and Drug and Administration (FDA) has allowed the company to declare its own products safe, despite being an ultra-processed food made with a novel set of proteins that have never before been on the market.
https://civileats.com/2022/03/08/perfect-day-whey-protein-alternative-dairy-nut-milk-consumers-ice-cream/?mc_cid=7a7273a5b6&mc_eid=c50da91d11
New on the High Street
Canadian vegan fast-food chain Odd Burger (formerly known as Globally Local) is planning to open 36 new locations in Alberta and British Columbia before 2029. This will bring the chain's total to nearly 50 locations across Canada and the United States. With these expansion plans in place, the brand is poised to become the largest vegan fast-food chain in the world.
https://vegnews.com/2022/3/odd-burger-expanding-locations
Impossible exit
Pat Brown, who founded Impossible Foods a decade ago and transformed the company into a plant-based meat giant, is stepping down as CEO, according to a blog post. Brown will continue his role as director and become Impossible Foods' chief visionary officer, responsible for research and technology innovation, strategic initiatives and public advocacy.
https://www.fooddive.com/news/impossible-founder-steps-down-outgoing-chobani-president-to-be-ceo/620578/?%3A+2022-03-17+Breaking+News%3A+Food+%5Bissue%3A40472%5D=
New products
Potato milk and coffee: Compared to other vegetables, potatoes are not usually seen as a good dietary source of proteins, as they only contain around 1-1.5 percent protein. However, potato proteins do have an excellent amino acid composition full of essential amino acids, as well as a high biological value (BV), which indicates how well proteins can be absorbed in the body.
https://plantbasednews.org/lifestyle/food/potato-milk-coffee-shop-menus/
Vertically farmed strawberries: New York City-based indoor vertical grower Bowery Farming launched a two-variety pack of strawberries — the first commercial release beyond leafy greens and herbs for the ag-tech company. The two cultivars are grown indoors and picked when ripe, according to a news release.
https://www.thepacker.com/news/products/vertical-grower-bowery-farming-launches-first-nongreen-product-strawberries?mkt_tok=ODQzLVlHQi03OTMAAAGDLjOQHoICeclNFbL_3pTNdyP5iO3MrkweZQbWSeZzMVO8IPvmAnIA-NRLb8feaTlZ5jM6QNgK7MQru7SgX9JMu2ibmfDnumnbaKaznPLi5RXmazyKbg
Deals
Mexican Micro Meat, the country's first cultivated meat startup has launched foundational tech for the growing cellular agriculture industry: based in Monterrey and co-founded by a tissue engineer and a space systems engineer, the start up says it is developing a proprietary scaffolding system that will revolutionise the cultivated meat sector, globally.
https://www.greenqueen.com.hk/micro-meat-to-make-cultivated-meat-easier-to-market/?ct=t(OCT+8+2020+INDUSTRY+SCOOP_COPY_01)
Tencent backs soil based vertical farms: based in Poeldijk near The Hague, Future Crops designs vertical farms that grow crops in a "unique soil-based substrate," diverging from the more commonplace vertical setups which eschew soil in favor of hydroponic or aeroponic systems.
https://agfundernews.com/future-crops-tencent-leads-funding-for-soil-based-vertical-farms?goal=0_8e101ace96-83bc7a7c03-99735377
Indoor farmer bought: Indoor farming company Local Bounti is acquiring rival Hollandia Produce Group, which grows and sells leafy greens under the name of Pete's, for $122.5 million. The transaction is expected to close early in the second quarter.
https://www.fooddive.com/news/local-bounti-to-acquire-indoor-farming-operator-petes-for-1225m/620426/?:%202022-03-16%20Food%20Dive%20Newsletter%20%5Bissue:40415%5D
China watching as plant based pork alternative raises HK$12m: Good Food manufactures plant-based products designed for Asian cuisines and palates. The new funding will be used to bolster an upcoming retail launch, as well as establishing pilot production in the Greater Bay Area. After securing blue-chip food service contracts over the past year with Disneyland, amongst others, Good Food is looking to debut its Plant Sifu consumer range in supermarkets.
https://www.greenqueen.com.hk/good-food-tech-funding/?ct=t%28OCT+8+2020+INDUSTRY+SCOOP_COPY_01%29
Tender raises $12m for realistic plant based meat : What Tender does is take plant protein mixes — including soy proteins, dietary fibres or other carbohydrates — and mix them into a solution. This solution then is spun at rapid speed into hair-width fibers. These fibers are then organized like a fibrous muscle tissue, on which fats and flavoring can be added.
https://www.fooddive.com/news/tender-realistic-plant-based-meat-12m/618876/?:%202022-03-15%20Food%20Dive%20Newsletter%20%5Bissue:40383%5D
Argentinian bioreactor firm closes $17m series A: Stämm, which was founded in 2016, is currently developing a desktop-sized bioreactor powered by 3D printing methodology. Replacing giant sterilised tanks with portable units capable of printing complex channels for oxygen and nutrient delivery allows for the possibility of a range of uses including pharmaceutical and cultivated meat applications.
https://www.greenqueen.com.hk/stamm-biotech-bioreactor/?ct=t%28OCT+8+2020+INDUSTRY+SCOOP_COPY_01%29
Austrian startup turning C)2 into food: Arkeon is the first company in the world to leverage the technology of gas fermentation with the power of archaea, an ancient microorganism with unique properties, for food applications. The company's proprietary technology produces all 20 amino acids for the human diet in one production step.
https://www.eu-startups.com/2022/03/vienna-based-startup-arkeon-picks-up-over-e6-5-million-to-turn-co2-into-food/?mc_cid=7a7273a5b6&mc_eid=c50da91d11
Regenerative farming startup providing virtual fences gets funded: Born in 2016, Vence fits wearable collars to cattle to help ranchers rotationally graze their herds without investing in physical fences – a major cost component for livestock farmers looking to transition to regenerative agriculture. Rotational grazing – or holistic planned grazing – attempts to mimic the natural movement of herds across land whereby they frequently occupy and vacate new pasture, fertilizing and promoting grass growth on the ground they've just left and not over-grazing it.
https://agfundernews.com/vence-secures-strategic-funding-from-merck-shell-for-virtual-fencing-tech?goal=0_8e101ace96-83bc7a7c03-99735377