Commentary
Food Delivery
Grocery Delivery
Alternative protein
Plant-Based FoodTech
Future Food Finance cherry-picks the stories we think should be on the radar of investors.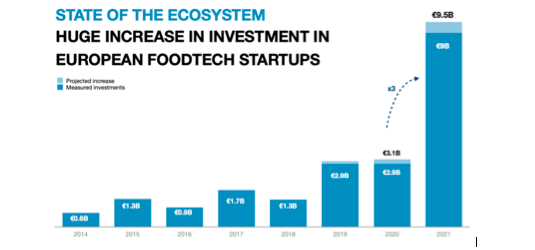 Graphic of the week: Europe now holds 20 percent of the food tech sector, up from 12 percent in 2021
DigitalFoodLab claims the projected amount of startup investments secured in 2021 reached €9 billion, representing three times growth on 2020. 19 €100 million (or more) deals were secured, with 75 percent of all investments made into startups in 10 European cities. The median deal amount doubled from €0.9 million in 2020 to €1.8 million in 2021.
https://www.greenqueen.com.hk/european-food-tech-investment-2021/?ct=t%28OCT+8+2020+INDUSTRY+SCOOP_COPY_01%29
Big story: Beyond Meat partnership with McDonalds disappoints analysts
Alt protein giant is already in trouble with Wall Street. The McDonalds deal needs to work. The street rumours don't look good though
According to analysts at BTIG, the burger's sales performance is "underwhelming" after examining sales at 600 McDonald's locations across the Bay Area and Dallas-Fort Worth region. According to BTIG, McDonald's franchisees reported that "they don't see enough evidence to support a national rollout [of the McPlant] in the near future"—with its lower sales volumes consequently "slowing down service times, as the product was being cooked to order." The analysts noted that while McDonald's was expecting to sell 40 to 60 of the plant-based patties each day, its locations in the Bay Area and Dallas Fort-Worth were only selling 20 per day. Sales at rural East Texas franchises were even more anemic, numbering between three and five sandwiches per day. While remaining open to the product's viability in "higher income, urban markets," BTIG said "a wide-scale launch [of the McPlant] seems a ways off at this point."
https://dot.la/mcdonalds-beyond-meat-2657054112.html
Trends to watch: research report says genetics play a crucial role in fruit and nut development
Plant biotech is one to watch and a recent Rabobank report pinpoints the importance of new genetic techniques
"Genetics play a key role in sustainable and consumer-centric production by providing cultivars that are more input-efficient and/or offer a better eating experience," the report summary said. "As there are more than 300 different types of fruit and nuts with distinctive characteristics, the potential opportunities will vary greatly by crop type. Opportunities depend on the potential market size, the production areas, the genomic complexity and the duration of the breeding process."
https://www.thepacker.com/news/packer-tech/rabobank-report-looks-fruit-and-nut-breeding-business-growth?mkt_tok=ODQzLVlHQi03OTMAAAGDhdpwlAbgpvcLLca-paUGwD3RJnC86hsmDFIOq1FRent8UPxPGgelbb_GHSgaM8Zim4Xjb0oA99rSv4QKYF4Fhj_griptnkrb0mzLqeily47bOlc2Kg
Trends to watch 2: Innovation summit talks carbon markets
Recent World AgriTech Innovation summit focused on developments in carbon markets. A participant highlights key debates
The potential for farmers to get rewarded for the environmental benefits they provide, via sale of offsets, is exciting; and an important leverage point for climate adaptation and mitigation. However, most farmers are upstream suppliers to many larger corporates who must make, and meet, their own climate targets. As those targets come under increasing scrutiny, Scope 3 emissions are coming into focus. As a result, the range of pathways for farmers to be rewarded is expanding beyond just offsets to also include 'insets' – initiatives led by downstream partners (eg, food companies) who are working to reduce emissions along the entire supply chain.
https://agfundernews.com/designing-carbon-markets-for-agriculture-world-agri-tech-2022-takeaways?goal=0_8e101ace96-c44e2812ef-99735377
Great primer on natural capital and what it means
A notoriously 'grey' area to define is admirably discussed in this fascinating blog. It repeats a constant concern – how to properly measure 'gains'
California has adopted forest protocols for landowners to register a forest with the California Climate Action Registry. Under the forest protocols, the forest project's extra carbon storage is calculated against a baseline of aggressive clearing of the forest, referred to as "business as usual." The carbon stored is being calculated on a legal definition, rather than actually what was happening. The protocols though are a step in the right direction. The bottom line is that countries, communities, companies, consumers, and farmers are realizing the benefits of natural capital. Significant challenges still remain, as these groups try to unlock the natural capital "trapped" in farmland.
https://rpethe.substack.com/p/98-means-not-ends?s=r
Report: Over a third of 2021 agrifoodtech investment went to e-grocers
If 2020 was the year agrifoodtech investment took off, 2021 saw the industry explode, raking in $51.7 billion in venture capital deals, according to the just-released 2021 AgFunder Agrifoodtech Investment Report. Nowhere is that growth more evident than in the eGrocery category, which was by far the biggest VC investment category for the year. In 2021, eGrocery saw $18.5 billion in investments, claiming over 35% of all agrifoodtech investment for the year and growing 188% over 2020.
https://agfundernews.com/third-of-agrifoodtech-investment-went-to-egrocery-services-in-2021?goal=0_8e101ace96-c44e2812ef-99735377
Talking to VCs: Unovis and alt proteins
Leading VC talks to trade publication Green Queen. Cue sensible caution about the risks involved...and the upside
What's happening right now is that we're having a correction around those expectations. If you overplay that hand, all you have is disappointment at the back end. Your capital markets interest wanes, people stop investing and they question the opportunity. These companies that actually had something good, something that could have grown…they're done just when they were getting started. And that is really, really unfortunate. I believe we could be looking at a lot of dead soldiers along the road in the coming year or two based on overhyped expectations. Most venture capital funds strive for an internal rate of return (IRR) of about 20%. This is a very high expectation if you own a company's shares for 10 years. But not impossible. While we may tell our investors we seek this IRR level, what we are really hoping for is something much, much higher. Why? Because a few of these investments will be a goose egg. And losses in one investment need to be made up by wins in another.
https://www.greenqueen.com.hk/interview-chris-kerr-unovis/?ct=t%28OCT+8+2020+INDUSTRY+SCOOP_COPY_01%29
Does anyone really want to 'farm' Octopus?
News that a Spanish company wants to open an industrial octopus farm probably helps explain why so many investors think that 'seafood' alternatives is the place to be at the moment
Leading academics: "And octopuses are not only intelligent. They are also sentient, capable of experiencing feelings such as pain and pleasure. We recently produced a report for the UK government, after analysing over 300 scientific studies. We found strong evidence in favour of sentience in cephalopod molluscs (including octopuses, squid and cuttlefish) and decapod crustaceans (such as crabs and lobsters). For many scientists, our findings merely reaffirmed what they already believed: that octopuses are conscious animals with feelings and inner lives, just like vertebrates. For us, all of this sits uneasily with the idea of octopus farming."
https://www.greenqueen.com.hk/octopus-farms-raise-ethical-concerns/
New products
Pizza vending machine in action - The pizza is fresh, not frozen, and made by humans but served by a robot. Assembled at a regional commissary "with hand-stretched crusts" and "locally sourced ingredients," the uncooked pizzas are loaded into the refrigerated section of PizzaForno's 65-square-foot automated oven. The customer chooses a pizza from the menu, then behind the scenes a robotic arm transfers the selected pizza to the oven. Once baked, it's placed in a box, which emerges from a slot in the storefront like money from an ATM. Each vending machine holds 70 pizzas, which have a three-day shelf life. Workers restock the machine with fresh pizzas three times a week.
https://www.axios.com/at-last-a-pizza-vending-machine-23a4aebc-3a13-45e9-86f0-9d235ca0857d.html?utm_source=newsletter&utm_medium=email&utm_campaign=newsletter_axioswhatsnext&stream=science
BeyondMeat launches plant-based analog of the much-beloved dehydrated, salted beef snack - It's the first product to emerge from Planet Partnership, Beyond Meat's joint venture with Pepsico, which they launched in January 2021 with the aim of "increasing accessibility to plant-based protein around the world" by creating "new snack and beverage options."
https://agfundernews.com/jerky-beyond-meat-why-has-launched-fy-2021-results?goal=0_8e101ace96-c44e2812ef-99735377
and
https://www.greenqueen.com.hk/beyond-meat-jerky-launch/?ct=t%28OCT+8+2020+INDUSTRY+SCOOP_COPY_01%29
Deals
MycoTechnology raises $85m in Series E - Founded in 2013, MycoTechnology says it harnesses "the metabolic engine of mushrooms, known as mycelium, using natural fermentation to create novel ingredients." These ingredients offer solutions to issues such as "sugar reduction, food insecurity, sustainable protein, [and] natural immune support."
https://agfundernews.com/mycotechnology-nets-85m-series-e-funding-from-omani-sovereign-fund-multiple-ag-food-giants?goal=0_8e101ace96-c44e2812ef-99735377