Commentary
Alternative protein
Plant-Based FoodTech
Vertical / Indoor Farming
Ingredient Producer
Future Food Finance cherry-picks the stories we think should be on the radar of investors.
Deal data: Agrifoodtech 8% of total VC funding in 2021
Investment in foodtech space by VCs is booming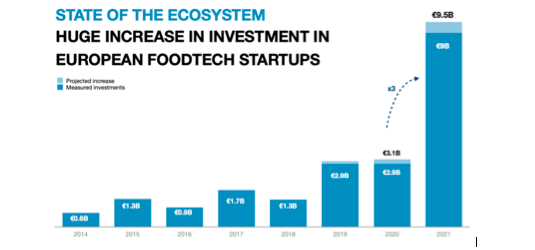 AgFunder's latest annual Agrifoodtech Investment Report recorded $51.7 billion in total worldwide venture funding for startups in these segments in FY 2021, up 85 per cent from $27.8 billion in FY 2020. Inputting both figures, agrifoodtech ventures secured just over eight per cent of total VC funding in FY 2021 – a few points shy of the 8.3 per cent share it enjoyed in FY 2020.
https://agfundernews.com/venture-funding-agrifoodtech-accounted-for-8-of-total-in-record-breaking-2021-data-snapshot?goal=0_8e101ace96-7672cdf36a-99735377
Great read: FoodDive digs into alt protein debate
Sensible caution needed around the increasingly vitriolic debates around food innovation
A narrow focus on alternative proteins misses the big picture, and policy reform should look both at what's better for the environment and what consumers can and will adopt. Reforms need to start where they could do the most good — such as increasing biodiversity or access to better nutrition — and not necessarily cutting greenhouse gas emissions. And Big Food should not be allowed to set the agenda by dominating the current food system and deep investments into rising alternative protein companies.
https://www.fooddive.com/news/ipes-food-report-future-alternative-protein-complicated/621777/?:%202022-04-08%20Food%20Dive%20Newsletter%20%5Bissue:40971%5D
Big picture: IPCC report says key role for food sector
IPCC report says Emerging food technologies such as precision fermentation, cultivated meat, and plant-based foods can "promise substantial reductions in direct GHG emissions from food production"
The agriculture, forestry, and other land uses (AFOLU) sector accounted for as much as 22% of total GHG emissions between 2010-2019, the report states. To keep global warming at 1.5°C (2.7°F) above pre-industrial levels by 2050, methane emissions – to which meat, dairy, and rice production are significant contributors – need to fall 34% by 2030 and 44% by 2040, the IPCC says.
https://agfundernews.com/ipcc-time-running-out-to-meet-emissions-targets-but-food-ag-can-help?goal=0_8e101ace96-7672cdf36a-99735377
and
https://agfundernews.com/alternative-proteins-will-not-save-the-planet-report-warns?goal=0_8e101ace96-7672cdf36a-99735377
New Plant-based Innovation and Alt Proteins stockmarket index
Specialist firm already boasts a vegan ETF. Now launches a broader index
According to VegTech, the index also serves as a benchmark for the emerging plant-based and alt-protein sector. It focuses on large, mid-, and small-cap companies that produce, among other innovations, consumer packaged goods, ingredients, biotechnology, and agtech using plant-derived or animal-free technologies. By offering these companies increased exposure, the index aims to attract greater investment toward a more eco-friendly, efficient and cruelty-free food supply chain.
https://vegconomist.com/investments-finance/vegtech-invest-launches-first-index/
Market data: plant-based sales hit $7.4 bn in 2021
Plant-based grew at a rate three times greater than all other food in the grocery store, which had a 1.8 per cent growth rate last year. Plant-based unit sales increased 3.8%, while total food unit sales dropped 3.4 per cent.
https://www.fooddive.com/news/plant-based-food-sales-hit-74b-in-2021/621160/?mc_cid=f9a589a327&mc_eid=c50da91d11
Running out of manure….
Not only are more U.S. farmers hunting manure supplies for this spring planting season, some cattle feeders that sell waste are sold out through the end of the year, according to industry consultant Allen Kampschnieder. "Manure is absolutely a hot commodity," said Kampschnieder, who works for Nebraska-based Nutrient Advisors. "We've got waiting lists."
https://www.reuters.com/world/us/us-manure-is-hot-commodity-amid-commercial-fertilizer-shortage-2022-04-06/?goal=0_8e101ace96-7672cdf36a-99735377
Meatable founder says cell-cultured meat investing a calculated risk, not wild gamble
Dutch firm says Meatable can put a "cost-competitive product on the market by 2025". Meatable has moved from being an R&D company to a food company after heavy funding. Scaling up is a do-able challenge.
https://www.foodnavigator.com/Article/2022/04/03/meatable-ceo-weighs-into-debate-over-viability-of-cell-cultured-meat-what-matters-is-the-biomass-accumulation-rate?utm_source=meat_newsletter&utm_medium=email&utm_campaign=06-Apr-2022&cid=DM1000086&bid=1896905524
Coming soon: Just EGG gets approval for mung bean protein
The approval, which follows an earlier greenlight last fall by the European Food Safety Authority, paves the way for the introduction of JUST Egg to the European market by the fourth quarter of 2022.
https://thespoon.tech/plant-based-eggs-starting-to-crack-their-way-into-europe/?mc_cid=17019c7349&mc_eid=5bcadf9234
Opinion piece: Alt proteins anywhere the griddle price point
For now, though, plant-based meat is still more expensive. Consumers are still asked to pay a plant-based meat "tax" when substituting an alt-meat patty at many fast food joints. While found for $5.99 at some stores, a package of Impossible or Beyond Meat ground is still priced significantly higher at premium grocers.
https://thespoon.tech/as-meat-prices-continue-to-rise-could-plant-based-meat-become-a-value-option-for-consumers/?mc_cid=17019c7349&mc_eid=5bcadf9234
NYT feature on rise of vertical farms
Momentum is really building in the vertical farms space. Great NYT deep dive on the sector
Reaching a scale that will be sustainable for businesses may mean expanding the types of crops grown in vertical systems, from leafy greens to vine and fruiting crops, said Russell Redding, the Pennsylvania agriculture secretary. For example, Bowery Farming announced plans to distribute strawberries in limited release in New York. But some scientists have doubts about the industry's ability to scale and diversify given the limitations of current technology. Tomatoes take 60 percent more electricity to grow than lettuce, and strawberries take twice that amount, said Bruce Bugbee, director of the Crop Physiology Laboratory of Utah State University in Logan.
https://www.nytimes.com/2022/04/06/business/vertical-farms-food.html
Gotham Greens to double output this year
This week, the NYC firm announced plans to double its greenhouse square footage over the remainder of the year. By 2022, Gotham says it will have expanded its greenhouse capacity from 600,000 square feet to north of 1.2 million. That includes facilities currently being developed in Texas, Georgia and Colorado, as well as expansion in Chicago and Rhode Island. Those join existing locations in New York, Rhode Island, Maryland, Illinois, Colorado and California.
https://techcrunch.com/2022/03/29/urban-greenhouse-firm-gotham-greens-set-to-double-its-footprint-this-year/
Israeli firm Aleph Farms plans to send Cow cells into space!
The company hopes to understand better the effects of microgravity on two basic processes responsible for muscle tissue formation, which will help them better understand how cow cells can be transformed into the building blocks of steak.
https://thespoon.tech/aleph-farms-is-about-to-send-cow-cells-to-space-heres-what-theyre-looking-to-learn/?mc_cid=f9a589a327&mc_eid=c50da91d11
New ideas: Genetically engineered drought resistant wheat is here from Argentina
HB4 wheat, genetically engineered to be drought resistant, can help protect against such variability by maintaining high yields even under drought conditions. HB4's drought resistance gene comes from sunflowers, so it qualifies as transgenic — containing genes from a different species — and therefore as bioengineered, genetically modified, or a GMO. HB4's ability to grow better with less water could help reduce land use.
https://thebreakthrough.org/issues/food/the-worlds-first-genetically-engineered-wheat-is-here?goal=0_8e101ace96-7672cdf36a-99735377
New ideas: British Airways launches vertical farms at airport
Speaking to teams at JFK and browsing LinkedIn updates, I found that British Airways has already installed a micro-farm at New York JFK Airport! British Airways is already using this farm to help supply elements of dishes. At London Heathrow, a new market table dining concept has also been introduced in the Galleries First Lounge
https://www.godsavethepoints.com/british-airways-starts-airport-farming-sustainability/
New ideas: Using the tobacco plant as a growth factor in bioreactors
Food tech startup BioBetter has developed a novel way to create growth factors for cell-cultivated meat utilizing tobacco plants. Based in Kiryat Shemona, Israel, the company announced today that it has developed a method to create growth factors via molecular farming techniques by essentially turning the tobacco plant into a bioreactor. BioBetter's technology employs plant cells to produce growth factors instead of more traditional techniques which utilize yeast, bacteria, or CHO in a bioreactor to produce growth factors.
https://thespoon.tech/biobetter-is-turning-tobacco-plants-into-bioreactors-to-drive-down-the-cost-of-cultivated-meat-growth-media/?mc_cid=17019c7349&mc_eid=5bcadf9234
New products
Mycelium foie gras - Fermented meat analog maker The Better Meat Co. plans to introduce an analog of foie gras this spring, co-founder and CEO Paul Shapiro told Food Dive. The foie gras, which will be made from the company's mycelium-derived Rhiza protein, will first appear on restaurant menus, Shapiro said. An announcement of the first restaurant partners is forthcoming.
https://www.fooddive.com/news/the-better-meat-co-to-debut-mycelium-foie-gras/621419/?mc_cid=f9a589a327&mc_eid=c50da91d11
Deals
MycoTechnology Secures $85 Million - Funding has been raised to help with the global rollout of mycelium-based novel food ingredients. Asia, Europe, and the Middle East have been specifically cited as target locations. Myco will bring its ClearIQ, and FermentIQ to new regions, in a bid to support burgeoning plant-based sectors.
https://www.greenqueen.com.hk/mycotechnology-85-million-fermentation-expansion/
French insect protein firm Ynsect moving to US via mealworms factory in Nebraska - The mealworms at the Nebraska facility will initially be used for chicken feed, which is already produced there. However, Alain Revah, Ynsect's chief marketing and communications officer, said in an interview this deal is the beginning of a major expansion of insect protein for human and animal uses in the U.S.
https://www.fooddive.com/news/ynsect-expands-to-the-us-with-mealworm-farm-addition/621134/
Better Origins $16m for series A AI insect mini farms - The Cambridge-based startup says its X1 mini-farms "recreate the conditions found in nature where food is eaten by insects and upcycled into essential nutrients for other animals," and use "AI and automation to create the optimal environment for this cycle to flourish." Each X1 is able to convert organic waste — for example, expired and unwanted food from local supermarkets — into feedstock for the thousands of black soldier fly larvae that they host. Cameras and sensors monitor the larvae's development as they grow within the X1. Better Origin's AI uses data collected from these sources to optimize rearing conditions, as well as protein and fat yields.
https://agfundernews.com/better-origin-banks-16m-series-a-for-its-ai-powered-insect-mini-farms?goal=0_8e101ace96-7672cdf36a-99735377
Benson Hill announces deal to supply soy ingredients to Kelloggs MorningStar Farms alt proteins range – US listed agtech has developed "ultra-high" protein soybeans that contain 20% more protein than typical U.S. soybeans at the time of harvest. Benson Hill will outfit Kellogg's with soy ingredients that cut water use by 70% and result in 50% fewer carbon dioxide emissions, by streamlining the steps required for traditional soy processing.
https://www.stltoday.com/business/local/benson-hill-cuts-deal-to-supply-soy-to-kelloggs-morningstar-farms/article_9cf55523-08bb-5157-ab68-d62a6cc1d8e8.html