Commentary
The FutureFoodFinance Foodtech Index was outperformed in November by the S&P 500 benchmark index, US mid caps, US small caps and US InfoTech stocks.
FFF Foodtech index November update
The FutureFoodFinance Foodtech Index recorded another dismal month in November with a decline of 10.3 per cent. This compares to a loss of 1 per cent over the same period for the S&P 500 benchmark index and -3 per cent for US mid caps and -2 per cent for US small caps. US InfoTech stocks as a sector gained 4.3 per cent.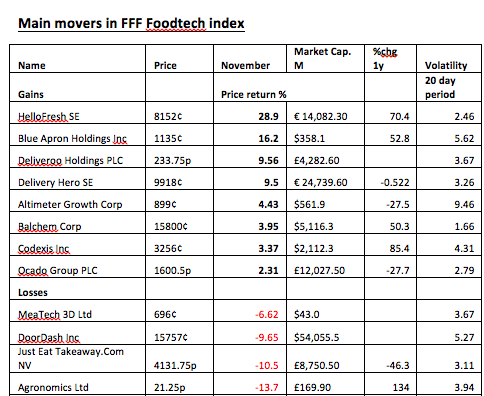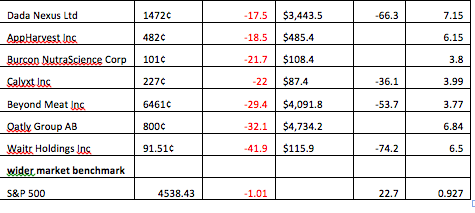 Movers in the FFFF Index
In terms of gainers, HelloFresh recorded the biggest gain in November advancing just under 29 per cent, in part because of a well-received full year outlook and third quarter numbers. The meal-kit company now says it expects 2021 sales to grow between 57 per cent to 62 per cent, an increase on earlier expectations of between 45 per cent to 55 per cent.
According to CEO Dominik Richter HelloFresh "further expanded our total addressable market by successfully launching HelloFresh in Norway in July and in Italy in October… all of these investments in place, we remain focused on reaching our mid-term revenue target of 10 billion euros."
HelloFresh was among 10 new companies to recently join Germany's biggest stock index. Third-quarter revenue hit 1.42 billion euros ($1.6 billion), versus an average estimate of 1.32 billion euros, after stronger sales over the summer compared to the same period in 2020 during the pandemic.
Blue Apron was another bright spot with a gain of 16 per cent in November. The home foods company boasted of some big advances in November recipes, not least being made available using Amazon Alexa.
Customers can now prepare their Blue Apron Two-Serving and Four-Serving recipes with hands-free instructions on Alexa-enabled devices.
Third quarter numbers, released in November, also helped boost sentiment with Blue Apron observing that its recently launched Heat & Eat meals was doing well.
The business also announced record average order value (AOV) for the third quarter. "Our focus on providing increased variety and flexibility to our customers through the continued roll out of product innovations, including Heat & Eat, our first-ever prepared, single-serving meal, has proven to be successful, as evident in the growth of our Average Order Value (AOV) to a third quarter record of $62.30," according to CEO Linda Findley.
AOV rose from $58.56 last year ($57.60 in 2019). That said the business also reported a 2 per cent revenue decline to $109.7 million for the quarter, which the company said was primarily due to a decline in orders and customers.
Shares in Home delivery businesses Deliveroo and Delivery Hero both managed to advance despite some strong headwinds – both gained just over 9 per cent in November.
But sentiment was undermined by reports from Bloomberg that millions of people working via delivery-based apps might be reclassified as employees after European Union policy discussions.
Nevertheless, Deliveroo reported that it has had a "really encouraging" response to its Deliveroo Hop dark-store rapid grocery trial. It also said it might be exploring more partnership opportunities, building on its existing deal with Morrisons, the UK supermarket chain.
Delivery Hero reported its third quarter results with revenues up 89 per cent at 1.8bn euros.
It also said that it expected 2021 revenue at the upper end of the outlook range. Crucially, the business said it expected no material impact from the recently announced DoorDash and Wolt 7 billion euro deal.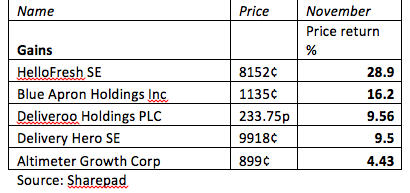 Amongst those stocks suffering heavy losses in November, Waitr Holdings topped the losers, down over 41 per cent. In November it announced third quarter numbers, with top line revenues down at $43.4 million, compared to $52.7 million the year previous.
For the nine months ended September 30, 2021, revenue was $143.5 million, compared to $157.5 million for the nine months ending September 30, 2020. Net income for the third quarter of 2021 was $12.3 million, compared to net income of $4.6 million in the third quarter of 2020.
Net income per share for the third quarter of 2021 was $0.09 compared to net income per share for the third quarter of 2020 of $0.04.The business said that in the third quarter it continued to invest in technology and integrations in several key areas of the business, with the expectation of positioning ourselves for long-term growth.
Shares in both Oatly Group and Beyond Meat took a beating in November, with the alternative milks business down 32 per cent while the alternative meat business saw its share price fall by 29 per cent. Both businesses released third quarter numbers that disappointed institutional investors and undershot expectations.
Oatly missed expectations based on its own forecast and announced revenues of $171.1 million. Ironically, these revenues smashed sales records to date for Oatly (up from $114.7 million the year before) but the business had been even more ambitious in those earlier forecasts.
According to a transcript of the earnings call, CEO Toni Petersson observed that "now, most companies would be thrilled with this level of growth and execution in any operating environment, but we hold ourselves to a higher standard of execution based on our bottoms up view of our business…. frankly, we expected to deliver approximately $178 million in revenue, representing a year-over-year growth of 55 per cent."
Oatly faced a number of headwinds in November, not least lower-than-expected production in its Ogden, Utah, site plus to-be-expected COVID-related supply chain issues. On the positive side, the business expects the Starbucks deal to help in the future and sales in Asia should also improve.
Beyond Meat also reported some poorly received numbers for the third quarter in November.
In the core US market net revenue declined by 13.9 per cent year over year to $67.5 million, due to lower overall demand coupled with supply chain issues.
By contrast international revenues more than doubled to $38.9 million. Combined revenue increased by 12.7 per cent year over year to $106.4 million, in line with the revised outlook statement Beyond Meat released in late October.
According to Motley Fool its "prior guidance was for revenue to be in the range of $120 million to $140 million, and the company admitted that the fall was larger than anticipated".
Gross profit was $23.0 million, or gross margin of 21.6 per cent of net revenues. Beyond Meat also recorded a net loss $54.8 million, or $0.87 per common share. The net loss as a percentage of net revenues was -51.5 per cent.
The company's cash and cash equivalents balance was $886.4 million and total outstanding debt was $1.1 billion as of October 2, 2021.
Net cash used in operating activities was $191m for the nine months ended October 2, 2021, compared to $42.7 million for the year-ago period.
Capital expenditures totalled $104.3 million for the nine months ended October 2, 2021, compared to $38m for the year-ago period.
Shares in gene editing business Calyxt fell 22 per cent in November after it announced a quarterly loss of $0.24 per share compared to a loss of $0.28 per share a year ago.
The business posted revenues of $7.76 million for the quarter ending September 2021compared to year-ago revenues of $5.24 million.
Crucially, the business announced a new strategic direction "to provide sustainably produced plant-based synthetic biology solutions to expanded group of end markets and diversified base of customers, leveraging its proprietary PlantSpring™ Technology Platform and BioFactory™ Production System".
Calyxt also commissioned its first pilot BioFactory, expected to be online by the end of 2021 and announced a $50.0 million at-the-market (ATM) share issuance program.
In other news, it also announced that had entered into "a research collaboration with a leading global food ingredient manufacturer based in Asia to develop an improved soybean capable of producing an oil as a sustainable commercial alternative to palm oil". Net cash used by operating activities improved by $16.2 million year-over-year.
The share price of Canadian plant based protein supplier Burcon fell just under 22 per cent in November. In third quarter results it announced that it had recorded a 76 per cent quarter-over-quarter increase in royalty revenues from its licensee, Merit Functional Foods Corporation.
It also disclosed it was in advanced due diligence process and negotiations "with a number of potential strategic partners on opportunities to commercialize Burcon's innovative plant-based protein technologies through one or more joint ventures and/or collaboration agreements".
During the quarter, subsidiary Merit Foods advanced the commissioning of its state-of-the-art pea protein and canola protein production facility in Winnipeg, Manitoba and "increased production of its best-in-class lineup of pea and canola protein ingredients". ;