Digest
Food Delivery
Grocery Delivery
Alternative protein
Plant-Based FoodTech
Our monthly round-up of the best sector articles from the rest of the internet.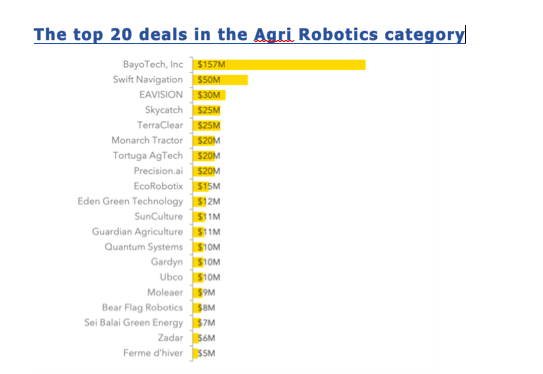 Farm robotics ventures raked in a total of $491 million in investment during H1 2021, a 40 per cent increase on the same period in 2020, and a similar jump on the second half of 2020 too, according to AgFunder data. Many of the noteworthy deals during the period went to startups using robotics to automate everyday on-farm tasks usually performed by individuals, rather than complex agricultural operations.
https://agfundernews.com/farm-robotics-startups-raised-491m-in-h1-2021-to-automate-the-basics-data-snapshot.html
This really matters…..you probably missed this, but ignore at your peril
Big money raises 1 : Israeli pioneer Future Meat raises mammoth $347m in funding
Israeli cultivated meat startup Future Meat has raised $347 million in funding. In a statement, US agribusiness major ADM said it co-led the Series B round through its ADM Ventures unit alongside an "unnamed global investor in technology companies." US meatpacker Tyson Foods and food manufacturer Rich's also participated via their VC arms, as did Menora Mivtachim, S2G Ventures, Manta Ray Ventures, Emerald Technology Ventures, Cibus Fund, Bits X Bites, and the Sander Group.
https://agfundernews.com/future-meat-nets-347m-from-adm-tyson-in-largest-cultivated-meat-round.html?goal=0_8e101ace96-ac4894e798-99735377
Big Money raises 2: The EVERY Co. grabs $175M
EVERY announces an oversubscribed Series C round of $175 million. The investment was co-led by new investor, McWin, and existing investor, Rage Capital. They were joined by other new and existing investors, including Temasek, Wheatsheaf Group, SOSV and TO Ventures. Prosus Ventures also contributed to the funding, marking its first investment in synthetic biology, according to EVERY. The latest investment brings EVERY's total funding to $233 million.
https://techcrunch.com/2021/12/07/the-every-co-grabs-175m-as-it-cracks-code-on-animal-free-protein-products/?mc_cid=4970bcc9db&mc_eid=c50da91d11
South Korean CellMEAT makes bovine free cell culture media
CellMEAT has unveiled its fetal bovine serum (FBS)-free cell culture medium. The product will help drive down production costs and circumnavigate ethical concerns within the cultivated meat industry. The company claims that others worldwide are attempting to bring a similar concept to fruition quickly.
https://www.greenqueen.com.hk/cellmeat-fetal-bovine-serum/?mc_cid=4970bcc9db&mc_eid=c50da91d11
Dutch announce massive plan to drastically reduce livestock numbers
The Dutch government has unveiled a €25bn (£21bn) plan to radically reduce the number of livestock in the country as it struggles to contain an overload of animal manure. A deal to buy out farmers to try to reduce levels of nitrogen pollution in the country had been mooted for some time, and was finally confirmed after the agreement of a new coalition government in the Netherlands
https://www.theguardian.com/environment/2021/dec/15/netherlands-announces-25bn-plan-to-radically-reduce-livestock-numbers?goal=0_8e101ace96-ac4894e798-99735377
Australian carbon price surges 180%
Companies voluntarily buying up carbon offsets amid a flurry of pledges to hit net zero emissions by 2050 have pushed up Australia's official carbon price by 180 per cent over the past year. The rising demand from companies under pressure to reduce their emissions has paved the way for a market "supercycle" that could lift Australian Carbon Credit Unit (ACCU) spot prices to $60 a tonne, new research from carbon market consultancy Reputex says.
https://www.afr.com/policy/energy-and-climate/australian-de-facto-carbon-price-surges-180-per-cent-20211221-p59jal?goal=0_8e101ace96-ac4894e798-99735377
How a new global carbon market could exaggerate climate progress
The rules approved at the COP26 climate conference include major loopholes, and could spur the creation of questionable carbon credits in other markets.
https://www.technologyreview.com/2021/11/24/1040568/how-a-new-global-carbon-market-could-exaggerate-climate-progress/
Vertical farming is headed for the 'trough of disillusionment.' Here's why that's a good thing.
With one of the oldest and biggest vertical farming companies failing to go public and an already-public greenhouse behemoth missing its revenue projections, it's safe to say we have passed the Peak of Inflated Expectations.
https://agfundernews.com/vertical-farming-is-headed-for-the-trough-of-disillusionment-heres-why-thats-a-good-thing.html?goal=0_8e101ace96-ac4894e798-99735377
DSM acquires one of Europe's top pea protein producers in $74m deal
Netherlands chemicals giant DSM has agreed to buy Norwegian pea protein producer Vestkorn Milling in a deal worth €65 million ($73.7 million). The acquisition of Tau-based Vestkorn "is a further step in DSM's strategy to build an alternative protein business," the Dutch company said in an announcement.
https://agfundernews.com/vestkorn-dsm-acquires-one-of-europes-top-pea-protein-producers-in-74m-deal.html?mc_cid=6536631a73&mc_eid=c50da91d11
Biotech firm rolling out scaleable technology for cultivated meat
Ark Biotech, led by ex-management consultant Yossi Quint, aims to address a major stumbling block in the cultivated meat arena: scalability. The company is seeking to roll out an extensive infrastructure update to allow pilot plants to be ditched in favour of facilities capable of scaled production. Ark Biotech will address both equipment and software needs.
https://www.greenqueen.com.hk/ark-biotech-cultivated-meat-infrastructure/?ct=t%28OCT+8+2020+INDUSTRY+SCOOP_COPY_02%29
IPOs and market talk…..food meets the investing community
Beyond Meat's share price keeps falling
Beyond reported fiscal third-quarter net loss of $54.8 million, or 87 cents per share, wider than a net loss of $19.3 million, or 31 cents per share, a year earlier. Analysts surveyed by Refinitiv expected a loss of 39 cents per share. The company said it faced higher transportation and warehousing costs and increased its inventory write-offs, which hurt its profits. About $1.9 million was written off due to water damage at one of its plants, which mostly affected packaging.
https://www.cnbc.com/2021/11/10/beyond-meat-bynd-q3-2021-earnings.html?mc_cid=811a1eda90&mc_eid=5bcadf9234
Oatly to Add 3 New Production Facilities
Oatly has announced it is scaling up its global production facilities. Three new plants have been announced, with 2023 operational targets. Combined, they are intended to produce 450 million litres of plant milk.
https://www.greenqueen.com.hk/oatly-new-production-facilities-2023/?ct=t%28OCT+8+2020+INDUSTRY+SCOOP_COPY_01%29
New products?......coming to a high street near you
Applegate launches hot dog from regenerative farmed beef
Applegate Farms, Hormel's natural and organic meat subsidiary, has debuted The Do Good Dog, which it calls the first nationally available hot dog sourced from beef raised on verified regenerative grasslands. The cattle are raised by SunFed Ranch in California. The hot dogs received regenerative sourcing verification with the Savory Institute's Land to Market seal. The Do Good Dog hotdogs are available at select stores and Amazon for a suggested retail price of $6.99. They are gluten-free and contain no preservatives, nitrites or nitrates, or added sugar, according to Applegate Farms.
https://www.fooddive.com/news/applegate-debuts-hot-dog-made-with-beef-grown-through-regenerative-farming/609371/?utm_source=AFN+and+AgFunder&utm_campaign=739a4c72cf-&utm_medium=email&utm_term=0_8e101ace96-739a4c72cf-99735377&ct=t()
ReadyBurger launching a 99p vegan burger in Veganuary
With Veganuary 2022 approaching, UK startup Ready Burger is set to make a splash by taking on the fast-food giants and launching a world-first product—a timeless classic plant-based burger for only 99p.
https://plantbasednews.org/lifestyle/food/ready-burger-veganuary/
Starbucks trialling alt milk
Starbucks is testing milk made by alt-dairy startup Perfect Day Inc. in the Seattle area
https://www.bloomberg.com/news/articles/2021-11-09/starbucks-tests-alt-milk-from-unicorn-startup-perfect-day?mc_cid=811a1eda90&mc_eid=5bcadf9234&sref=YsjYbPpy
Hemami product launched
HEMAMI appears to be the combination of the words "umami" and "heme". This novel ingredient is a heme protein derived from yeast, created via precision fermentation. Heme is a molecule that contains iron, and it is found in high concentrations in the blood of animals and humans. According to Motif Foodworks, HEMAMI can be used to improve the aroma and flavour of plant-based meat analogs likes burgers, sausages, chicken, and more.
https://thespoon.tech/motif-foodworks-new-hemami-receives-gras-status-from-fda/?mc_cid=d1ae435176&mc_eid=5bcadf9234
Plant milk alternative range launched
Straight off the back of a successful seed plus round, U.K.-based Mighty has announced the launch of a third-generation plant milk rnage. The new M.LKology product line showcases the company's most authentic dairy-free milk to date. Biomass fermentation has been used to mimic conventional milk, with simplified labels in place for consumer clarity. Products are due to land in early January 2022 on Tesco and Sainsbury's.
https://www.greenqueen.com.hk/mighty-m-lkology-release/?ct=t%28OCT+8+2020+INDUSTRY+SCOOP_COPY_02%29
The last Mile…getting new products into the kitchen
London local food firm closes
London "online ethical supermarket delivering locally produced, organic groceries and ethical home essentials directly to your door," startup Farmdrop has called it a day, and in an email to customers, announced that its final day of deliveries concluded as of yesterday. Meaning, Farmdrop customers who'd placed orders for the Christmas feast are, literally, out in the cold.
https://tech.eu/brief/farmdrop-calls-it-a-day-closes-up-shop-a-week-before-scheduled-holiday-deliveries/?goal=0_8e101ace96-ac4894e798-99735377
The Next Big Thing…..what we believe might become the 'new new thing'
Israeli firm develops microalgae for bleeding meat free burgers
Yemoja is a marine ingredient startup already recognised in the cosmetics industry. Now, it is moving into the plant-based meat sector. It is in the process of developing red microalgae, branded as Ounje, which will allow meatless products to bleed realistically without artificial colour additives.
https://www.greenqueen.com.hk/yemoja-microalgae-meat-bleed/?mc_cid=4970bcc9db&mc_eid=c50da91d11
UK farmers to be paid to protect winter soil
Many British farmers are already protecting their soils through good practice. They will now be paid for the valuable work they are doing, whereas previously they weren't rewarded with grants. The new scheme will be rolled out in phases to avoid a "Big Bang" in farming. In future, landholders will be incentivised for reducing the amount of fertiliser and pesticide they use. They'll be encouraged instead to use low-impact methods such as integrated pest management, which uses pheromones to disrupt pest mating cycles, or adopts mechanical control, such as trapping or weeding.
https://www.bbc.co.uk/news/uk-politics-59499371
and CNBC report on why carbon credits the next big thing for farmers
https://www.youtube.com/watch?v=-7SNlRUopSQ
First Vegan Casein
Dutch food tech and ingredient developer Fooditive has revealed another success story. Following on from upcycled natural sweetener, it has launched a vegan-friendly casein protein made from peas. The animal-free casein powder has numerous potential applications and are suitable for all conventional dairy products across the board.
https://www.greenqueen.com.hk/fooditive-vegan-casein/?ct=t%28OCT+8+2020+INDUSTRY+SCOOP_COPY_01%29
Upside launches animal component-free (ACF) cell feed
Industry pioneer Upside Foods is calling its ACF feed a "breakthrough milestone" that will make cultivated meat scalable and cost-effective. It replaces traditionally-used mediums including fetal bovine serum (FBS) and animal proteins, which raise ethical questions and remain cost-prohibitive. Removing the need for such components has been the goal for Upside since its conception in 2015.
https://www.greenqueen.com.hk/upside-foods-acf-cell-media/?ct=t%28OCT+8+2020+INDUSTRY+SCOOP_COPY_01%29
Wider AgTech space….farming is digitized and food revolutionised
Spotify of agritech as xFarm and Farm technologies join forces
The new company will provide a "full digital farm management platform" offering AI and IoT solutions, with 80,000 farms and 1 million hectares under management, it says. Founded in 2016, xFarm collects data from the field via a network of sensors. This data can then inform farmers' decision-making and strategies in order to waste fewer economic and natural resources and respond more quickly to situations in the face of climate uncertainty and its consequences. Farm Technologies is best known for Idroplan, its smart irrigation platform that helps farmers determine, via data and algorithms, the precise frequency and quantity of water needed by different crops.
https://agfundernews.com/xfarm-and-farm-technologies-merge-to-become-the-spotify-of-agtech.html?utm_source=AFN+and+AgFunder&utm_campaign=739a4c72cf-&utm_medium=email&utm_term=0_8e101ace96-739a4c72cf-99735377&ct=t()
Corteva develops robot to walk between rows of crops
Corteva Agriscience is working to take agricultural robotics to new heights using a Spot robot from Boston Dynamics. The company uses this platform, nicknamed "Annie", to 'walk' between rows of corn, sunflowers and more. Corteva says the robot has potential applications in field testing of both new seed and crop protection solutions with its ability to autonomously collect large amounts of data, support the application of new crop protection discovery molecules, and inspect operations.
https://www.futurefarming.com/tech-in-focus/field-robots/corteva-leverages-mobile-robots-to-walk-row-crops/?utm_source=AFN+and+AgFunder&utm_campaign=739a4c72cf-&utm_medium=email&utm_term=0_8e101ace96-739a4c72cf-99735377&ct=t()
Australian researchers make key breakthrough for green fertiliser
Scientists at Australia's Monash University claim to have made a critical breakthrough in green ammonia production that could displace the extremely dirty Haber-Bosch process, with the potential to eliminate nearly two percent of global greenhouse emissions.
https://newatlas.com/energy/green-ammonia-phosphonium-production/
Key Agritech Trends To Expect In 2022
Agritech entrepreneurs and investors expect greater tech-driven innovation and deployment across value chains in the coming year
https://www.entrepreneur.com/article/399768
Argentine AgTech marketplace raises $30m in Series C
The Rosario-based startup claims to be "the leading agribusiness online market in Latin America," operating in nine countries across the region including its native Argentina. Starting out as an online marketplace, it lists around 150,000 products for farmers to purchase; it has since expanded into financial services. The deal takes its total funding to date to $66 million across four rounds.
https://agfundernews.com/agrofy-adds-30m-in-yara-led-series-c-round.html?utm_source=AFN+and+AgFunder&utm_campaign=739a4c72cf-&utm_medium=email&utm_term=0_8e101ace96-739a4c72cf-99735377&ct=t()
Real time soil monitoring firms raises $20m on Series A
Founded in 2018 in Potsdam, Germany, Stenon's digital soil data is produced without the need for a laboratory, making it faster and more efficient, the company claims. Stenon says farmers get data to make the best decision about cultivation, boosting yield, crop quality and soil health, while saving significant amounts of time and money by not needing to use a soil testing laboratory.
https://techcrunch.com/2021/12/20/real-time-soil-testing-agtech-startup-stenon-raises-20m-series-a-funding-round/?goal=0_8e101ace96-ac4894e798-99735377
AgTech start up raises $5.7m for crop resilience genome edits
Phytoform's combination of machine learning and gene-editing technologies aim to address the dual problem agriculture faces nowadays: cutting down agricultural emissions, which produces up to one-third of all global emissions, while simultaneously adapting to challenges already brought about by climate change. For example, one recent study from NASA found that maize crop yields are projected to decline 24% by 2030 due to climate change. Elsewhere, scientists have predicted that pests will eat 10-25% more wheat, rice and maize across the globe for each one degree rise in climate temperature.
https://agfundernews.com/phytoform-bags-5-7m-to-boost-crop-resilience-through-genome-edits.html?utm_source=AFN+and+AgFunder&utm_campaign=739a4c72cf-&utm_medium=email&utm_term=0_8e101ace96-739a4c72cf-99735377&ct=t()
Deere and Co invests in electric future
Deere & Company has announced a majority investment in Kreisel Electric, an Austrian-based company which was founded by two brothers in 2014. Kreisel is a battery technology company which will help John Deere vertically integrate vehicle and powertrain designs. Kreisel has developed a patented battery technology for high-density, high-durability electric battery modules and packs along with a charging infrastructure platform (CHIMERO).
https://www.agweb.com/news/machinery/new-machinery/john-deere-invests-electrification-its-future?mkt_tok=ODQzLVlHQi03OTMAAAGBaT1i_ILRebs-YWwlI_IOrO4COYFhdtT_6EUnq411nvZutDepx5wnSLPOWaYy-zY7oKa83lgtCnuICMtTlYvQVy99Am9xG-ulWIibcIhpGVGZfd4suQ
Market Growth? …the helicopter view
Green Queen deep dive into market trends
Moonshot Collaborative's poll also showed that younger plant-based buyers in particular were more likely to get their wallets out for plant-based alternatives, with a whopping 92% of Gen Z consumers, 81% of millennials and 72% of Gen X shoppers saying they would pay more. Of course, it needs to be noted that the study was based on a small sample size of just under 900 respondents, but it's still indicative of the youth-driven plant-based trend we're seeing.
https://www.greenqueen.com.hk/consumer-behaviour-deep-dive-who-is-buying-plant-based-meat-and-why/?ct=t%28OCT+8+2020+INDUSTRY+SCOOP_COPY_01%29
Watching the VCs
Edmond de Rothschild Sets Up Food-Tech Investment Partnership
The private-equity unit of family-owned investment firm Edmond de Rothschild Group is launching its latest partnership with a specialized investment team, this time focusing on food and agriculture startups. Edmond de Rothschild Private Equity is forming a partnership with food technology-focused venture firm PeakBridge VC to back early stage companies, particularly those promoting better nutrition or sustainable food production.
https://www.wsj.com/articles/edmond-de-rothschild-sets-up-food-tech-investment-partnership-11638397800
Worth noting…..details that matter
Don't Call It "Lab-Grown'
Meat made via harvesting cells from animals should, in the future, be referred to as "cultivated" meat according to alt-protein company Upside Foods.
https://www.greenqueen.com.hk/upside-foods-cultivated-meat-labeling/?ct=t%28OCT+8+2020+INDUSTRY+SCOOP_COPY_01%29
Cultured meat industry association set up
A freshly established association, Belgium-based Cellular Agriculture Europe has been founded to create industry unity and transparency. 13 companies have joined, including Dutch pioneer Mosa Meat, whose head of public affairs sits as the first president. Industry-wide challenges will be a primary focus, with issues such as labelling and stakeholder education taking top priority.
https://www.greenqueen.com.hk/cellular-agriculture-europe/?mc_cid=4970bcc9db&mc_eid=c50da91d11
Further reading….articles which drill down into the space
Synbio meets Alt Proteins
One of the areas that we are starting to see cellular agriculture expand into is cash crops grown in the tropics (for example, coffee, cocoa, palm oil, and cotton.). These crops are typically grown in low-income countries that rely heavily on commodity exports, thus making them critical to local job creation, human development, and food security. However, due to the location of these farms, they are extremely susceptible to rising pest and disease outbreaks (partly a result of climate change) and are affected by socioeconomic challenges such as low farm-gate prices, slave labor, poor working conditions, and land-grabbing. Demand for each of these crops is also rising, so sustainable and resilient production is imperative.
https://agfundernews.com/cellular-agriculture-emerging-markets-just-because-we-can-does-it-mean-we-should.html?utm_source=AFN+and+AgFunder&utm_campaign=739a4c72cf-&utm_medium=email&utm_term=0_8e101ace96-739a4c72cf-99735377&ct=t()
The Spoon digs into public comments on cell cultured meat labelling review
When it came to identifying appropriate qualifier terms for the new products, most of the groups commenting from inside of the industry expressed a preference for "cell-cultured," or "cultivated." Alternative seafood startup BlueNalu pointed to research that the company commissioned on the use of different terms, which found that the term "cell-cultured" maximized consumer appeal while minimizing confusion.
https://thespoon.tech/we-read-the-public-comments-on-cell-cultured-meat-labeling-so-you-dont-have-to/?mc_cid=d1ae435176&mc_eid=5bcadf9234
Curb Your Food Tech Enthusiasm
lternative protein still operates within the confines of existing, highly problematic systems. To realize its full potential in creating a better food system, we need to look beyond its advantages over conventional meat. The technology itself does little to address other major structural and ethical issues within the food system, including corporate concentration and the treatment of workers
https://www.wired.com/story/future-of-food-tech/
Fast Company : Plant-based meat isn't perfect, but it is a form of harm reduction
I see plant-based meat as a form of harm reduction, both for our health and that of the world around us. No matter how much time and money you spend, you're not going to convert everyone to a diet of nuts, seeds, fruits, and veggies. If swapping a beef burger for a vegan one every so often is the only intervention a person is willing or able to make, fine. At the very least, they're saving themselves the cholesterol, heart disease, and stroke risks associated with eating too much red meat.
https://www.fastcompany.com/90706186/plant-based-meat-isnt-perfect-but-its-a-form-of-harm-reduction?goal=0_8e101ace96-ac4894e798-99735377
McDonald's still struggling with methane problem
An in-depth examination of the company's headway — including a review of its beef sustainability pilot projects as well as dozens of interviews with current and former McDonald's executives, cattle ranchers, industry experts and scientists — shows that the world's biggest hamburger chain so far hasn't reduced the climate impact of its beef.
https://www.bloomberg.com/news/articles/2021-12-01/the-carbon-footprint-of-mcdonald-s-menu-very-big?srnd=premium&sref=YsjYbPpy
Why did Upside Foods fire its co-founder just weeks after his team's scientific triumph?
Upside, like its competitors, is under increasing pressure to release its first commercial products—though federal regulations still make the sale of cultured meat impossible in the United States Even if such an approval is eventually granted, commercial production may never be feasible at larger scale.
https://thecounter.org/upside-foods-lab-grown-meat-cultured-uma-valeti-nicholas-genovese-firing/?mc_cid=4970bcc9db&mc_eid=c50da91d11
A Big Future For Biologicals
Four trends are driving this growth, says Mark Trimmer, DunhamTrimmer managing partner: Consumer demand for reducing pesticide use, especially in produce; Favorable policies in the U.S., European Union and other countries; Benefits to growers with pest resistance management aspects; As consumers look for year-round production of produce, biostimulants can help crops tolerate year-round weather stresses.
https://www.thedailyscoop.com/news/new-products/big-future-biologicals?mkt_tok=ODQzLVlHQi03OTMAAAGBD-lyZbHay6mEjtn9s16tvNLWQ6-I986_a3GjW3DWF5y38X8h2RROp0p0_9KPlpJE6_r4honraCOJ1De48ysJeHTk-lPhPEZR3Pdle9GRgHR11nuNBg&mkt_tok=ODQzLVlHQi03OTMAAAGBgTQi0RBqz5Z5ZhVwMCeGpyCH2ukNKLznzBe0RILPejV930YpBL9wQpStYut7NRzHQyOUETTGX0scwruCRPvwoDJlSrwWVpoJfPQlhn5H_2kTw8L7hw
Even brighter future for molecular farming
Molecular farming is one route to producing the animal proteins that give egg, dairy, and meat products their visual, taste, and functional properties. Molecular farming allows you to use the exact same protein that would normally be produced by a chicken or cow, without the need for any actual animals.
https://thespoon.tech/in-2022-molecular-farming-startups-will-move-toward-commercialization-of-animal-free-proteins/?mc_cid=d1ae435176&mc_eid=5bcadf9234
China watching
Canadian vegan brand expands into China
Once a meat-based brand, Canadian vegan brand Noble Jerky has officially launched in mainland China. The news follows recent expansion into Walmart Canada. The company believes China's vegan scene is growing and the move is designed to offer more choice to plant-based snackers.
https://www.greenqueen.com.hk/noble-jerky-china/?ct=t%28OCT+8+2020+INDUSTRY+SCOOP_COPY_01%29
Chinese firms positioning for GM corn
Dabeinong's corn traits use genes that were discovered and commercialised by other firms but are off-patent. The biotech firm is working on its own genes, although these are yet to be approved. It may need to move quickly before its "me-too" products lose their value, said an executive at a multinational seed company who declined to be named. To ensure its first-mover advantage, Dabeinong is hiring more commercial staff and in September invited seed companies to visit trial plots in Inner Mongolia and Henan province planted with corn containing its Fengmai brand traits.
https://www.reuters.com/markets/commodities/beijing-biotech-firm-banks-gm-corn-race-be-chinas-monsanto-2021-12-06/
Beyond Meat opens second R&D plant..in China
Los Angeles-based Beyond Meat has finalised details of a new R&D centre in Shanghai, China. It marks the first location of its kind for the company, outside of the United States. The facility will house scientists and researchers charged with developing plant-based meats for the Asia-Pacific market. The move comes as part of a wider global expansion plan. The Beyond Meat Shanghai centre is expected to be operational in the first half of 2022.
https://www.greenqueen.com.hk/beyond-meat-opens-shanghai-facility/?ct=t%28OCT+8+2020+INDUSTRY+SCOOP_COPY_02%29
Green Day looking to raise another $100
As reported by Bloomberg, sources have indicated that plant-based platform Green Monday is seeking to raise a further $100 million in funding. The news comes after the Hong Kong-based company raised a record $70 million last year, led by leading global investment firm TPG and British conglomerate Swire. For the planned raise, Green Monday is reported to be working with Bank of America Corp, but details such as the size and timing of the raise have yet to be confirmed. Representatives from Green Monday and Bank of America have declined to comment.
https://vegconomist.com/investments-acquisitions/green-monday-raise-100/
PODCAST ALERT
Dealflow…..funding news from the last month
North America 1 : Tiamat raises $3m in seed funding for new growth medium
Biotech startup Tiamat Sciences has announced that it is developing a new cellular agriculture growth medium. The move is intended to significantly reduce the cost of producing cultivated meat and allow for faster progression to large-scale manufacturing. Traditional growth factors are typically cost-prohibitive, but new plant-based biomolecules can take their place.
https://www.greenqueen.com.hk/tiamat-sciences-cultivated-meat/?ct=t%28OCT+8+2020+INDUSTRY+SCOOP_COPY_01%29
North America 2 : Helaima raises $20m for breast milk proteins
Helaina has closed its Series A funding round with $20 million, co-led by early-stage tech investors Spark Capital and Siam Capital. Participating investors included Primary Venture Partners and Plum Alley Investments, as well as American celebrities like Tom Williams, Hannah Bronfman, Gabrielle Union, and Matt Rutler among others. The latest financing brings the New York startup's total funds raised to date to $24.6 million, and will be used to scale up the company's technology as it looks to commercialise its nature-equivalent breast milk solution.
https://www.greenqueen.com.hk/helaina-series-a/?ct=t%28OCT+8+2020+INDUSTRY+SCOOP_COPY_01%29
North America 3: Oatmeal startup raises $3m
A Chicago oatmeal startup has expanded to hundreds of grocery stores after just launching in June. Yishi, led by co-founder and CEO Lin Jiang, makes a line of Asian-inspired oatmeals. Its flavors include Taro Bubble Tea, Matcha Late and Toasted Black Sesame, among others.
https://www.bizjournals.com/chicago/inno/stories/profiles/2021/11/30/oatmeal-startup.html?mc_cid=6536631a73&mc_eid=c50da91d11
North America 4: Vegan bacon startup raises seed money
Californian vegan bacon startup Hooray Foods has announced the completion of a $2.7 million seed extension round. The company says the funding will allow for scaled production of its flagship animal-free rashers in order to meet increasing demand throughout the U.S.and Canada. The investment will also be used to improve the existing recipe.
https://www.greenqueen.com.hk/hooray-foods-vegan-bacon-seed-extension/?ct=t%28OCT+8+2020+INDUSTRY+SCOOP_COPY_01%29
North America 5: Texas-Based NadaMoo! Closes $10 Million Series B to Expand Dairy-Free Ice Cream Brand
Dairy-free ice cream brand NadaMoo! has secured close to $10 million for brand building and distribution expansion. The funding round was led by existing investors District Ventures Capital and Invest Eco. A new partner, Killam Investments, also came on board.
https://www.greenqueen.com.hk/nadamoo-dairy-free-funding/?ct=t%28OCT+8+2020+INDUSTRY+SCOOP_COPY_01%29
Australia 1 : Algae startup bags $11.4m
Australian startup Provectus Algae has secured funding to commercialise its high-value marine ingredients. The pre-Series A round was led by Hitachi Ventures and Vectr Ventures. Supplementary support came from Possible Ventures, Acequia Capital, amongst others. Previous seed funding totalled $3.25 million, also led by Vectr. New funds will be used to complete a larger production facility and bring products to market in 2022.
https://www.greenqueen.com.hk/provectus-algae-11-4-million-funding/?ct=t%28OCT+8+2020+INDUSTRY+SCOOP_COPY_02%29
Australia 2 : WOA raises $20m for worlds lowest carbon milk
Australia's Wide Open Agriculture (WOA) announced it has raised $20 million to support a move to domestic plant-based production for its low carbon oat milk. Funding was raised through share purchases, both institutional and individual, and will be used to construct a new manufacturing facility focussed on oat milk. Additional funds will be diverted to support the expansion of a secondary site dedicated to lupin protein development.
https://www.greenqueen.com.hk/woa-raises-20-million-low-carbon-milk/?ct=t%28OCT+8+2020+INDUSTRY+SCOOP_COPY_01%29
Asia 1 : South Koreas Zikooin raises $23m, set to build largest plant based meat factory
Zikooin, the startup that manufactures the Unlimeat brand of vegan beef, has raised $23 million in a new funding round to fuel the construction of its new factory. The round was led by KDB Bank and saw participation from STIC Ventures, PremierPartners, and Crit Ventures, among others. The plant, located in Jecheon city, is set to become one of Asia's largest plant-based meat factories with its land area spanning over 14,650 square metres.
https://www.greenqueen.com.hk/zikooin-unlimeat-funding-factory/?ct=t%28OCT+8+2020+INDUSTRY+SCOOP_COPY_01%29
Europe 1 : INFARM RAISES $ 200M TO ACCELERATE GLOBAL EXPANSION OF CLIMATE-RESILIENT VERTICAL FARMS
The new capital will be used to support Infarm's global growth strategy, including the expansion of its existing vertical farming network in the United States, Canada, Japan and Europe, and entry into new markets in Asia-Pacific and the Middle East. By 2030, the company plans to significantly increase its presence to 100 Growing Centers in 20 countries and plans to grow the entire fruit and vegetable basket. Infarm is now valued at well over $ 1 bn
https://www.infarm.com/infarm-raises-200m-to-accelerate-global-expansion-of-climate-resilient-vertical-farms/
Europe 2: Perfeggt raises $2.8m and set to launch animal free egg
Working alongside the Netherlands' Wageningen University & Research, heralded for its life sciences studies, the Perfeggt R&D team tested various plant-based protein sources to find the perfect legume that would mimic egg's properties while being easy to flavour.
https://www.greenqueen.com.hk/perfeggt-raises-initial-funding-for-vegan-egg-liquid/?ct=t%28OCT+8+2020+INDUSTRY+SCOOP_COPY_01%29
Europe 3 : Juicy Marbles secures $3.5m for vegan steaks
Alongside a number of angel investors, environmentally-astute search engine Ecosia's new World Fund. Juicy Marbles is the €350 million-strong climate tech fund's first investment, as part of designed to bring climate tech to the forefront of new business and make decarbonisation a value driver. Seed funding is earmarked for scaling production to meet 2022 launch targets, with fully realised products in the retail sector early next year. The startup is targeting supermarkets, restaurants, and independent artisanal outlets, with direct-to-customer channels a key focus in order to minimize excess packaging and shipping.
https://www.greenqueen.com.hk/juicy-marbless-seed-funding/?ct=t%28OCT+8+2020+INDUSTRY+SCOOP_COPY_01%29
Europe 4 : Precision fermentation protein developer raises 2 m euros
Belgian food tech startup Paleo has announced that it has raised €2 million in seed funding round. A specialist precision fermentation protein developer, Paleo has earmarked the funds for further product R&D and future facilities design. A planned €40 million Series A funding round will finance the building of an R&D centre, pilot plant, and experience hub.
https://www.greenqueen.com.hk/paleo-e2-million-seed-round-success/?ct=t%28OCT+8+2020+INDUSTRY+SCOOP_COPY_01%29
UK 1 : Alt dairy Mighty raises £4.5m in seed plus round
The latest funding for Mighty was led by two of Germany's leading brewing families. Bittburger Ventures and Schadeberg Family Office were joined by VRD Ventures and the Latsco family Office in completing the round. Mighty has already secured investment from Beyond Impact, Veg Capital, and Dohler Ventures. Animal-free milk choices have increased exponentially in recent years. Mighty conservatively estimates there are more than 70 options available on the market today. This variety, the company says, can prove overwhelming and lead to choice fatigue for consumers.
https://www.greenqueen.com.hk/mighty-milk-precision-fermentation/?mc_cid=4970bcc9db&mc_eid=c50da91d11
Africa 1 : De Novo Dairy raises pre seed funding
South Africa's De Novo Dairy, the continent's first precision fermentation dairy startup, has announced the close of a successful round of pre-seed funding that will enable to company to push forward on R&D. One of a growing number of startups using pioneering precision fermentation around the globe, the company is creating dairy proteins identical to those found in nature, without the cows or the cruelty.
https://www.greenqueen.com.hk/de-novo-dairy-pre-seed-funding/?ct=t%28OCT+8+2020+INDUSTRY+SCOOP_COPY_01%29