Commentary
Food Delivery
Grocery Delivery
Alternative protein
Plant-Based FoodTech
The FFF FoodTech index endured another tough month in February and was down 10 per cent but the recent FoodTech bear market might be bottoming out.
The FFF FoodTech index had another tough month in February, down 10 per cent, partly off the back of wider negativity within the broader tech/growth stock space. That said, we see evidence that the recent bear market in FoodTech stocks might be tentatively bottoming out.
FFF Foodtech index summary returns:
Index level 1st February 2022: 4529
Index level 28th February 2022:4067
Index change: -10.2%
Back in December – December 20th to be precise – we restructured the FFF Foodtech index to better represent returns from a broad basket of different sectors within this fast-emerging space. The key innovation was to introduce sector caps across the broad spectrum of stocks within this space. To remind readers, this Foodtech index includes the following sub-sectors:
AgTech
Alternative food
Cloud/Dark kitchens
FoodTech Investment
Indoor Farming- Vertical
Ingredient Producer
Last mile technologies
Synthetic Biology
Each of these sectors is now capped at a maximum of 20 per cent of the value of the index. We introduced this change largely because one sector, comprising very large market cap firms, could easily end up dominating the returns profile of a broad, diversified index.
Obviously, this change introduces its own risks and biases, and can end up magnifying the impact of mid to small-cap firms, but on balance, we believed this is a sensible change that helps build a more diversified, representative index. This new cap system was introduced on December 20th and thus the index was rebased from that date onwards.
As for recent returns, only a few stocks in the index produced positive gains in February, led by sustainable ag business AppHarvest which recorded a near 18 per cent gain – admittedly after a torrid few months.
Danish enzymes giant Novozymes also eked out a modest 0.9% gain in February. The biggest losses in share price terms were Calyxt, a plant biotech firm which was down 37 per cent and Blue Apron down 35 per cent.
The food delivery businesses continued to suffer big losses – Delivery Hero was down 32 per cent, Just Eat down 22 per cent, Hello Fresh down 29 per cent, and Deliveroo down 21 per cent.
Beyond Meat also had another poor month, off the back of poorly received numbers on Wall Street – the faux meat specialist saw its shares fall by over 30 per cent again in February.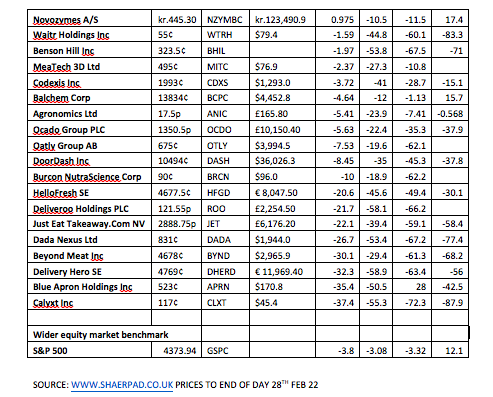 The last table below shows the main constituents of the index as at the end of February 2022. The largest three stocks in the index, based on market capitalisation and subject to sector limits were Balchem at 12.9 per cent of the index, Farmers Edge at 8.79 per cent and Aker Bioscience at 8.16 per cent.