Commentary
Food Delivery
Grocery Delivery
Alternative protein
Plant-Based FoodTech
Our monthly round-up of the best sector articles from the rest of the internet.
Chart of the month
AgTech funding shoots up
Upstream AgriFoodTech technologies — those operating close to the farm and in the midstream — amassed $1.9 billion in the first half of 2021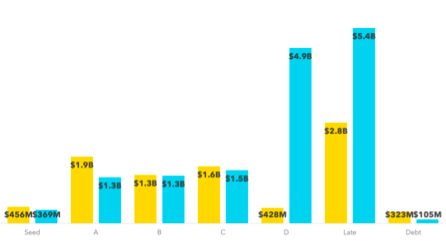 This really matters…..you probably missed this, but ignore at your peril
Fast-food restaurants across the U.S. aren't switching up menus as quickly as expected
The biggest restaurant chains are backing off—or at least slowing down—faux-meat plans after the Covid‑19 pandemic and lockdowns upended dining and eating. Instead of trying new things, Americans have been eating at home or seeking familiar, comforting foods when they do venture out.
https://www.bloomberg.com/news/articles/2021-09-24/which-fast-food-has-fake-meat-not-many-serve-beyond-meat-impossible-foods?sref=YsjYbPpy
Green queen looks at 18 transformational startups
As our food system continues to battle challenges brought on by climate change and the coronavirus pandemic, innovation in the FoodTech startup world has been racing to come up with disruptive solutions. From gut-health to upcycled ingredients to sustainable cell-based proteins and novel ways to fight food waste, we take a look at some of the most exciting firms shaking up the industries.
https://www.greenqueen.com.hk/meet-18-startups-transforming-food-from-fungi-protein-to-cultured-breast-milk/?ct=t%28OCT+8+2020+INDUSTRY+SCOOP_COPY_01%29
Pea prices rising alongside meat prices
Meat prices have been steadily rising over the past few months, with beef and pork in the US up by more than 10% since December 2020, while poultry costs have grown over 6%. But a similar price hike could be on the rise for pea protein as well, due to the surge in demand for plant-based meat alternatives against short raw material supply. Canada, the world's biggest pea protein producer, has struggled to keep up with rising demand in the midst of a drought, with production numbers falling by 45%. As a result, pea protein prices have increased 120% year-on-year, according to some reports.
https://www.greenqueen.com.hk/pea-protein-price-soar/?mc_cid=1a7f606be6&mc_eid=c50da91d11
Can Cultured Meat scale up to meet challenges?
Yes, for luxury foods.
https://www.greenqueen.com.hk/cellag-caviar-burger-beluga/?ct=t%28OCT+8+2020+INDUSTRY+SCOOP_COPY_01%29
No. The science and engineering challenges are just too big. Essential reading
https://thecounter.org/lab-grown-cultivated-meat-cost-at-scale/
GENETIC ENGINEERING IS THE FUTURE OF AGRICULTURE, SCIENTISTS TELL LAWMAKERS
The United States must modernize its regulation of agricultural biotechnology, especially in livestock, to reap the benefits of gene editing and to lead the world in breakthroughs of food production, said a panel of scientists on Tuesday. Joined by some farm-state lawmakers, panelists said the FDA and USDA should share duties in regulation of GE plants and animals.
https://www.agriculture.com/news/business/genetic-engineering-is-the-future-of-agriculture-scientists-tell-lawmakers?did=689241-20211028&utm_campaign=todays-news_newsletter&utm_source=agriculture.com&utm_medium=email&utm_content=102821&cid=689241&mid=70520490531
Glyphosate Prices Soar As Much As 300%
From nitrogen to glyphosate, prices are posting 100% to 300% increases right now. Some farmers say they can't even get retailers to price product until the inputs actually arrive at the retail facilities.
https://www.agweb.com/news/crops/crop-production/glyphosate-prices-soar-much-300-and-thats-if-you-can-even-get-it?mkt_tok=ODQzLVlHQi03OTMAAAGAXTkc2jFKu9rC3aEc7dhGai_320-jcPs2RT1IAU8mDut34Xn8g909YDKcE-Aw6l4eLPev5ci2E-lLB9-DqxWsiz6KPvzVo8mEcuyEIVt1744H310yng
IPOs and market talk…..food meets the investing community
Beyond Meat share price plunges after poor Q3 sales
Beyond Meat plunged 14% after reporting preliminary net revenue for third quarter of about $106 million, missing the estimate of $134.3 million by about 30%, and a huge disappointment to the company's prior guidance which was $120 million to $140 million.
https://www.zerohedge.com/markets/beyond-meat-implodes-after-reporting-catastrophic-q3-sales
AgTech firm Benson Hill IPOs
Benson Hill, founded in 2012, aims to revolutionize agriculture by using data science, artificial intelligence and machine learning to help improve crop varieties with better accuracy, nutritional value and sustainability than traditional breeding methods.
https://chiefexecutive.net/in-post-ipo-glow-benson-hill-chief-counts-lessons-learned/
German plant-based brand Veganz limbering up for German IPO
German plant-based brand Veganz has revealed it is planning an IPO, which will see its shares trade on the Regulated Unofficial Market of the Frankfurt Stock Exchange within a few months. New shares from a capital increase will be included, as well as existing shares from some shareholders. The company is hoping for proceeds of around €35 million to help it establish a new production site and invest in research and development, marketing, and expansion. Veganz currently has 120 plant-based products across 17 categories, including alt-protein, ready meals, breakfast items, snacks, and sweets.
https://vegconomist.com/trade/veganz-group-announces-it-is-preparing-for-ipo/
and
https://www.greenqueen.com.hk/veganz-ipo/?ct=t%28OCT+8+2020+INDUSTRY+SCOOP_COPY_01%29
AeroFarms cans US SPAC deal
AeroFarms and Spring Valley said in a statement that they "mutually agreed" to terminate the agreement. "We made this decision to ensure that AeroFarms is in an optimal position to pursue our growth strategy," said AeroFarms co-founder and CEO David Rosenberg. "We believe proceeding with this transaction is not in the best interests of our shareholders."
https://agfundernews.com/aerofarms-spring-valley-terminate-1-2bn-spac-deal.html?goal=0_8e101ace96-c2c31fb894-99735377
and
https://www.fooddive.com/news/aerofarms-calls-off-spac-deal-after-funding-dries-up/608261/?utm_source=Sailthru&utm_medium=email&utm_campaign=Issue:%202021-10-15%20Food%20Dive%20Newsletter%20%5Bissue:37394%5D&utm_term=Food%20Dive
Gingko Bioworks under attack by short seller
Calling its business model "hocus-pocus" and "a colossal scam," activist short seller firm Scorpion Capital has stung Ginkgo Bioworks. The synthetic biology company went public less than a month ago through a $1.6 billion special purpose acquisition company deal, which bestowed upon it a $23 billion market cap.
https://www.fiercebiotech.com/medtech/ginkgo-bioworks-suffers-short-attack-firm-calling-it-a-hoax-for-ages
Impossible Foods share sale on Seedrs in the UK
Seedrs is launching Seedrs Private Deal Room, which will offer private share sales, as it looks to make democratise the investment process. Crowdfunding platform Seedrs is offering investors £1million-worth of shares in Impossible Foods as part of a new facility offering private share sales, as it looks to democratise investing.
https://www.futurefoodfinance.com/article/0130_seedrs-offers-investment-in-impossible-foods-as-launches-private-deal-facility
Agronomics invests in cultured cocoa business
UK listed VC fund led a Seed Funding Round for with a US$ 2.2 million investment (the "Subscription") for California Cultured Inc. ("California Cultured"). The financing is in the form of a SAFER ("Simple Agreement for Future Equity"). Joining the round includes global venture firm SOSV's IndieBio.
New products?......coming to a high street near you
Alternative cream cheese arrives
Modern Kitchen has just launched as the newest alternative cream cheese label on the market, and it's made from real dairy proteins developed by Perfect Day. Coming in three flavours, the new cream cheese line is lactose-free, hormone-free and cholesterol-free, but still boasts the creamy taste and texture consumers love about conventionally produced cream cheese.
https://www.greenqueen.com.hk/modern-kitchen-perfect-day-cream-cheese/?mc_cid=1a7f606be6&mc_eid=c50da91d11
Hybrid Chorizo Sausages With Cultivated Fat
Berkeley-based Mission Barns will team up with fellow Californian brand Silva Sausage to create a plant protein sausage using cultivated fat.
https://vegconomist.com/products-and-launches/mission-barns-to-release-hybrid-chorizo-sausages-with-cultivated-fat/
The last Mile…getting new products into the kitchen
Plant-based frozen meals service gets investment
Veg Capital, the UK vegan investment fund, has invested in plant-based frozen meal service Plant Alternative. Producers of the highly realistic "Shicken", Plant Alternative creates vegan alternatives to a wide range of Indian food favorites and offers a DTC service.
https://vegconomist.com/investments-acquisitions/veg-capital-invests-in-plant-alternative-pioneer-of-frozen-indian-shicken-curries/?utm_source=mailpoet&utm_medium=email&utm_campaign=-china-s-first-cultivated-meat-company-raises-dollar10-9m-to-build-pork-production-line_620
and
https://www.greenqueen.com.hk/plant-alternative-shicken-veg-capital/?ct=t%28OCT+8+2020+INDUSTRY+SCOOP_COPY_01%29
The Next Big Thing…..what we believe might become the 'new new' thing
Sustainable animal Feed protein
FYTO is a US AgTech company producing aquatic plants in a controlled and automated environment. FYTO's crops, which include a type of duckweed called lemna, can be used as a protein-rich alternative for traditional animal feed ingredients, plant-based foods, biofertilizers, and soil amendments, and can be produced nearly anywhere in the world with minimal human intervention.
https://www.agriculture.com/news/technology/fyto-the-start-up-growing-protein-with-robots-to-decarbonize-agriculture?did=687759-20211025&utm_campaign=todays-news_newsletter&utm_source=agriculture.com&utm_medium=email&utm_content=102521&cid=70247807532&mid=
Wider AgTech space….farming is digitized and food revolutionised
AgTech funding increasing
Series A rounds for upstream AgriFoodTech technologies — those operating close to the farm and in the midstream — amassed $1.9 billion in the first half of 2021. That was more than the $1.3 billion invested at Series A stage for downstream innovations operating closer to the consumer. This strength in early-stage funding, which was also reflected at the seed stages, suggests that investors see the long-term potential for tools and business models that sit earlier in the agrifood value chain, usually on the farm or in the lab.
https://agfundernews.com/upstream-series-a-investment-hit-1-9bn-in-h1-2021-data-snapshot.html?goal=0_8e101ace96-c2c31fb894-99735377
Fintech moves into AgTech
The Growers Edge platform uses data and analytics to help partners make informed lending decisions and provide an objective, data-driven review of their lending portfolio. The company has developed a streamlined underwriting scorecard that analyzes a grower's credit using traditional lending analysis factors combined with credit and risk factors relevant for specialized short-term financing.
https://www.agriculture.com/news/business/growers-edge-launches-digital-ag-lending-platform?did=683190-20211008&utm_campaign=todays-news_newsletter&utm_source=agriculture.com&utm_medium=email&utm_content=100821&cid=683190&mid=68882173760
Kubota Corporation and Yamaha Motor Co., Ltd. Advanced Farm Technologies and strawberry robots
AFT is a U.S. - based startup seeking to raise efficiency in the agriculture field by developing and manufacturing robots for strawberry harvesting. Their TX robotic strawberry harvester combines an unmanned ground vehicle (UGV) together with image sensors and artificial intelligence (AI).
https://www.thepacker.com/news/packer-tech/kubota-and-yamaha-motor-invest-us-startup-developing-robots-automate-strawberry?mkt_tok=ODQzLVlHQi03OTMAAAF_8RReKxTSP5OZvrnUHb7i7eiXVNEmUIv-rNymVXBkziWtxba7ilziVS4sFk2kiHWNINLjetZzQ58wIxcbdrwdmuTh1VW00uh-g5wx0LkJQEYhcwEgmQ
Orchard software outfit Hectre raises money in heavily oversubscribed Series A
Off the back of impressive growth and an extremely strong market position, Hectre, the New Zealand based orchard management and fruit sizing software company, has just completed a funding round which will see both its team and its product innovation capability expand significantly.
https://www.thepacker.com/news/packer-tech/popular-agritech-company-hectres-offering-heavily-oversubscribed?mkt_tok=ODQzLVlHQi03OTMAAAGAGP5B2t70V0WgIb_K1t-zQK21hEPnc8_KAtHdbsFfVzd5T7z_54xdDmQyMRhYT8BFAXnXKqxSOaOU2vE8-Hm_lRz_UwKQH6bDkv_hOJ-6iUav1TKiTw
Watching the VCs
Rubio Impact Ventures raises more money for second fund
Rubio Impact Ventures has closed its second fund with €110m, almost 40% more than its initial target. It now manages €150m of impact capital, four times more than this time last year. With this second raise, Rubio plans to fund over 30 impact-focused companies, from Seed to Series A. It used its first fund to invest in eleven companies, including cultivated meat startup Mosa Meat, litter collection app Litterati, and fair coffee brand Wakuli.
https://vegconomist.com/investments-acquisitions/rubio-impact-ventures-raises-e110m-in-second-fund-exceeding-target-by-almost-40/
Ashton Kutcher invests alongside MeaTech in new investment vehicle for clean, circular businesses
Sound Ventures describes itself as "an investment vehicle dedicated to the next generation of clean, circular and sustainable businesses. Anchored by a partnership program with some of the world's leading brands and corporations, our unique investment thesis is focused on sustainable supply chain management. The partnership aims to accelerate growth and expedite the commercialization of MeaTech's proprietary cultured meat production technologies.
https://vegconomist.com/hot-off-the-vegan-press/ashton-kutcher-invests-in-meatech-to-help-push-israeli-cultivated-meat-to-market/
Two new European venture funds launched in a week
Two new funds have just launched in Europe to support the region's fast-growing food tech industry, with investors now increasingly placing their bets on the disruptive potential of the sector. Madrid-based Eatable just opened its €50 million Eatable Evolution Fund FCR I, the biggest of its kind in Spain targeting early-stage food and agri-tech companies in Europe and Latin America. Meanwhile, Paris-headquartered Five Seasons Ventures has closed its Fund II with €180 million to back the "most promising" European consumer-facing food techs, primarily through Series A and B investments.
https://www.greenqueen.com.hk/europe-food-tech-funding/?mc_cid=1a7f606be6&mc_eid=c50da91d11
Atlantic Food relaunches as EuroFoodTech fund FoodLabs
An offshoot of the Berlin fund Atlantic Labs, and headed by tech investor Christophe Maire, the €100 million Early-Stage fund aims to help European innovators achieve a paradigm shift in the world of food production.
https://vegconomist.com/companies-and-portraits/atlantic-food-relaunches-as-foodlabs-dedicates-e100m-to-expedite-european-foodtech/?utm_source=mailpoet&utm_medium=email&utm_campaign=anuga-2021-exceeds-all-expectations
Nordic Foodtech closes first fund
Nordic FoodTech, the venture capital firm investing in alternative protein and sustainable food startups, has closed its first fund with €42 million. Launched last year, the fund is the first early-stage VC in the Nordics region to be fully focused on food techs, and its now set to back 15 to 20 more companies in the coming years.
https://www.greenqueen.com.hk/nordic-foodtech-vc-funding/?ct=t%28OCT+8+2020+INDUSTRY+SCOOP_COPY_01%29
Worth noting…..details that matter
USDA funds $10m Tufts Uni for a Cultivated Protein Center of Excellence
The new program is the first federally funded Institute at a major university with the explicit goal of developing new approaches and technologies for cultivated meat. The project includes the development of new sustainable and cruelty-free growth medium, scaffolding, and fermentation technologies that can contribute to the advancement of the cultivated meat field.
https://thespoon.tech/usda-awards-10-million-to-tufts-university-to-establish-a-cultivated-protein-center-of-excellence/?mc_cid=b1d40423ef&mc_eid=5bcadf9234
New African AgriTech news and research platform launched
CDC Group and FMO have partnered with AgFunder to launch a dedicated African agrifoodtech news and research platform. AFN Africa will research and report on new startups, technologies and investments in the agriculture and food sectors across the African continent.
https://www.cdcgroup.com/en/news-insight/news/were-partnering-with-fmo-and-agfunder-to-launch-an-african-agrifoodtech-news-and-research-platform/
Further reading….articles which drill down into the space
NYT on growing questions about sustainability and plant based alternatives
One investor tracking firm gives Beyond Meat a zero when it comes to sustainability measures. Another rates it a "severe risk," putting it on a par with the beef and chicken processing giants JBS and Tyson. "We don't feel we have sufficient information to say Beyond Meat is fundamentally different from JBS," said Roxana Dobre, a manager of consumer goods research at Sustainalytics, a firm that rates the sustainability of companies based on their environmental, social and corporate governance impact.
https://www.nytimes.com/2021/10/15/business/beyond-meat-impossible-emissions.html?goal=0_8e101ace96-c2c31fb894-99735377
Excellent introduction to the use of apps in Agriculture
Now we're seeing the next wave of applications use the latest infrastructure to build new products like carbon marketplaces, agfintech products, and machine autonomy.
http://blog.withleaf.io/en/apps-and-infrastructure-in-agtech?utm_content=bufferf36d9&utm_medium=social&utm_source=linkedin.com&utm_campaign=buffer
China Watching
Joes Future Food raises more money
Joes Future Food, the first food tech in China to produce cell-based meat, has secured 70 million RMB (US$10.9 million) in its Series A round. Proceeds will go towards ongoing R&D, scaling its technology, and to build its first pilot production line for cultivated pork.
https://www.greenqueen.com.hk/joes-future-food-cell-based-pork-series-a/?ct=t%28OCT+8+2020+INDUSTRY+SCOOP_COPY_01%29
PODCAST ALERT
Kingdom Supercultures and computational biology
"What we're building is really trying to recapitulate what we already find in nature," said Ravi Sheth, who sat down for the latest episode of The Spoon podcast with cofounder Kendall Dabaghi.
To do that, Kingdom has assembled what the company claims is the world's largest biobank of cultures in the world. The goal, according to Sheth, is to create a much faster path to discovery than traditional microbiology.
https://thespoon.tech/podcast-how-kingdom-supercultures-is-using-ai-to-create-a-new-generation-of-novel-ingredients/?mc_cid=eded0a33b9&mc_eid=5bcadf9234
Dealflow…..funding news from the last month
North America 1 : Food waste into animal feed startup raises $169m
Do Good Foods, a newly launched company formed to turn upcycled food waste into feed for animals intended for human consumption, has started operations backed by $169 million from asset manager Nuveen. The company has built a production facility in Fairless Hills, Pennsylvania, capable of processing 160 tons of excess food from about 450 grocery stores per day. Do Good Foods expects to introduce its first product, Do Good Chicken, in supermarkets as well as restaurants and other foodservice locations in the United States early next year
https://www.grocerydive.com/news/newly-launched-do-good-foods-raises-169m-to-turn-food-waste-into-animal-fe/607738/?mc_cid=1a7f606be6&mc_eid=c50da91d11
North America 2 : Microbial raises $25m for supercultures
Kingdom Supercultures has raised $25 million in its Series A round led by New York-based early-stage investors Shine Capital. Other VCs joining the round include Valor, Lux, and Digitalis, among others, as well as the founders of fellow food techs and brands like Daring Foods, Good Culture, Hungryroot, and Rxbar. It comes after the company's initial $3.5 million seed funding backed by a number of tech VCs, notably including Sequoia and Y Combinator. Proceeds from the latest round will help finance Kingdom's plan to "revolutionise plant-based foods" with its natural microbial cultures.
https://www.greenqueen.com.hk/kingdom-supercultures-funding/?ct=t%28OCT+8+2020+INDUSTRY+SCOOP_COPY_01%29
North America 3: Biotech firm BIOMILQ raises $21m in Series A
BIOMILQ's breast milk will provide a much-needed solution for parents who wish to breastfeed but aren't able to. Conventional infant formulas are usually dairy-based, and as such not suitable for mothers who choose not to consume animal flesh or secretions. Additionally, dairy options struggle to match the nutritional profile of human breast milk. The round was led by Novo Holdings and Breakthrough Energy Ventures, with support from others including Blue Horizon and Spero Ventures.
https://vegconomist.com/cultivated/21m-series-a-for-biomilqs-human-milk-for-babies-means-mothers-wont-have-to-rely-on-dairy-products/
North America 4: Carbon trading tool platform raises $30m
US carbon trading platform CIBO Technologies has raised $30 million in Series C funding, it said in a statement. The Cambridge, Massachusetts-based company indicated that the funds will be used to boost the commercialization of its monitoring, reporting, and verification (MRV) tool for soil carbon, CIBO Enterprise. According to the startup, CIBO Enterprise allows agrifood companies to monitor their carbon management-related activities and incentivize farmers in their value chains to take up regenerative agriculture.
https://agfundernews.com/cibo-technologies-raises-30m-series-c-funding-for-carbon-trading-tools.html?goal=0_8e101ace96-c2c31fb894-99735377
North America 5: Bio Textile firm raises $550k
US biomaterials company Bucha Bio has raised $550,000 in funding to scale up production of its bio-textile product called Mirai. Investors included New Climate Ventures, Beni Venture Capital, Lifely VC, QKZ Design, and MicroVentures, alongside angels Cary Pinkowski, Nicholas Valeriano, and Fiona and George Sobek. Bucha Bio makes novel biomaterials by fermenting renewable bacterial nanocellulose, a natural biopolymer created by strains like Gluconacetobacter xylinus.
https://agfundernews.com/mirai-maker-bucha-bio-banks-funding-for-its-next-gen-bacterial-biomaterials.html?goal=0_8e101ace96-c2c31fb894-99735377
North America 6: Wagyu Ribeye Alternative backed by CULT
CULT Food Science Corp announces has completed a strategic investment into Berekely's Ohayo Valley Inc., a cultivated meat science and cell biology company focused on developing and commercializing intellectual property to facilitate the sustainable production of A5-grade cultivated, wagyu ribeye beef.
https://vegconomist.com/investments-acquisitions/a-strategic-stake-in-steak-cult-food-science-buys-into-wagyu-ribeye-producer-ohayo-valley/?utm_source=mailpoet&utm_medium=email&utm_campaign=-china-s-first-cultivated-meat-company-raises-dollar10-9m-to-build-pork-production-line_620
North America 7: Cultured aqua culture form raises $1.2m
Aqua Cultured Foods' oversubscribed funding closed at $2.1 million with capital from Supply Change Capital, Aera VC, Sustainable Food Ventures, Hanfield Venture Partners, Lifely VC, Conscience VC, Kingfisher Capital, Big Idea Ventures, and Swiss Pampa. According to the brand, the funding will go toward continued research and development efforts on its "whole muscle" sushi-quality tuna and whitefish, as well as popcorn shrimp, calamari, and scallops made from its microbial fermentation method.
https://www.greenqueen.com.hk/aqua-cultured-foods-oversubscribed-pre-seed/?ct=t%28OCT+8+2020+INDUSTRY+SCOOP_COPY_01%29
and
https://www.foodbusinessnews.net/articles/19921-aqua-cultured-foods-raises-21-million-in-pre-seed-round?mc_cid=eded0a33b9&mc_eid=5bcadf9234
North America 8: GrubMarket raises $145m in Series E
GrubMarket was a first mover to re-architect the highly intermediated American food supply chain by establishing a producer-centric eCommerce platform with clear price advantages for market participants and exclusive producer / customer relationships. GrubMarket's customers include tens of thousands of grocery stores, restaurants, offices, online food delivery companies, farms and individual consumers.
https://www.prnewswire.com/news-releases/grubmarket-raises-145-million-series-e-to-accelerate-profitable-growth-301407199.html?mc_cid=eded0a33b9&mc_eid=5bcadf9234
North America 9: Biofermentation outfit raises $17m
Shiru is using computational biology to find the ideal proteins for specific applications in the food industry. The company's looking at what proteins are best for creating certain kinds of qualities that are used in food additives — things like viscosity building, solubility, foam stability, emulsification and binding, according to Hume.
https://techcrunch.com/2019/08/16/protein-replacement-startups-are-coming-for-food-additives-as-shiru-launches-from-y-combinator/
and
https://www.foodnavigator-usa.com/Article/2021/10/27/Shiru-raises-17m-to-launch-bio-fermentation-platform-producing-label-friendly-alternatives-to-everything-from-methylcellulose-to-gelatin?mc_cid=eded0a33b9&mc_eid=5bcadf9234
UK 1 : AllPlants raises £38m in record breaking Series B
After three consecutive years of triple-digit revenue growth, UK 'chef-to-customer' service allplants has finalized a record-breaking £38 million Series B funding round. The raise marks the biggest ever Series B round for a European plant-based food business.
https://vegconomist.com/investments-acquisitions/allplants-secures-record-breaking-38m-series-b-featuring-england-football-stars/
UK 2 : Sugars from fibre startup raises more money
The Supplant Co. raised nearly $18 million in a round of funding that saw the addition of actress Ayesha Curry, professional basketball player Chris Paul and health advocate Ryan Shadrick Wilson as early-stage investors. The London-based company offers a blend of sugars found naturally in plant fiber. The product is made by upcycling parts of plants that would otherwise be underutilized by the current food system, such as wheat straw, oat husks, corn cobs and rice straw.
https://www.foodbusinessnews.net/articles/19795-sugars-from-fiber-startup-adds-new-investors?mc_cid=1a7f606be6&mc_eid=c50da91d11
UK 3: Healthy snack brand raises more than £1m via crowd
Perkier, the UK's fastest-growing healthy snack bar brand, has completed a highly successful crowdfunding campaign on Seedrs. The company raised £1 million — 250% more than its original target of £400,000 — from over 300 investors.
https://vegconomist.com/investments-acquisitions/healthy-snack-brand-perkier-raises-1m-exceeding-crowdfunding-target-by-250/
UK 4 : Vegan restaurant chain Neat Burger raises $7m
Following the round, Neat Burger is now valued at $70 million. The funding will allow the chain to continue with its plans to triple in size — the company states it intends to open roughly one restaurant per month through to the end of 2022. Currently, Neat Burger operates five London locations, but it aims to increase that to 19 dine-in sites and 16 delivery kitchens. The company was able to accelerate its expansion after the pandemic caused rents to fall.
https://vegconomist.com/gastronomy-and-catering/neat-burger-plans-to-triple-in-size-after-funding-round-increases-its-value-to-70m/?utm_source=mailpoet&utm_medium=email&utm_campaign=anuga-2021-exceeds-all-expectations
Sweden 1 : Melt and Marble raises money for hybrid product
Melt&Marble (formerly Biopetrolia), a company working on fermentation-based production of animal fats, has closed a seed round of €750K led by Nordic FoodTech VC. Other investors include Paulig's venture arm PINC, Purple Orange Ventures, and Chalmers Ventures. The funding is a kick-start for the company's new mission of providing delicious and sustainable fats for plant-based foods.
https://meltandmarble.com/meltmarble-raises-a-e750k-seed-round-to-create-fats-that-close-the-taste-gap-between-animal-and-plant-based-meats/